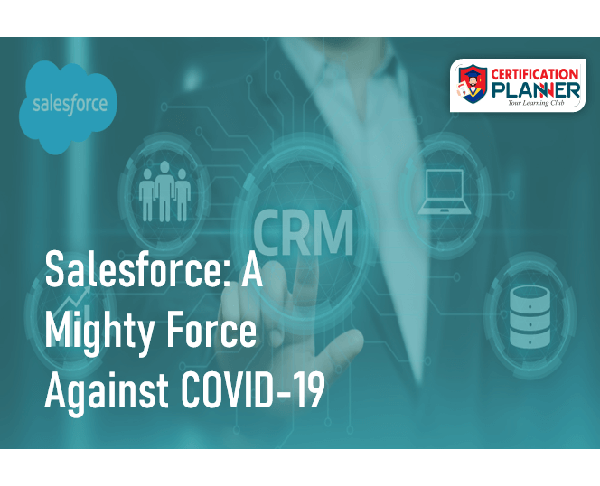 Salesforce: A Mighty Force Against COVID-19
The world is facing the pinch of the COVID-19 outbreak. The pandemic has disrupted the ways of conducting business both in private and professional life. While the world is under geofencing and enterprises are facing a difficult time, Salesforce, a cloud-based customer service solution, has been scaling up to facilitate proper functioning.
While the mass utility of remote working has been made evident during the global lockdown, it has been a well-utilized tool in the Salesforce related jobs. Salesforce related roles that had extensively been utilizing remote working include:
* Customer success architect
* Senior data engineer
* Network engineer
* Delivery manager
* Developer evangelist
* Senior consultant
Technical architect
Thus, Salesforce already has the answer to the critical problems of the current business functions. That is not all; Salesforce has taken several steps to not only equip the world to fight the pandemic but also bring elements of normality to the general business functions.
Salesforce Steps-up its Game
Salesforce is providing tools to small and large enterprises to stay connected to its employees, partners, and clients during the crisis. Let's look at a couple of such tools offered by Salesforce.
1. Salesforce Care for Healthcare
The Salesforce Care for Healthcare package of tools was one of the initial offerings of Salesforce for the healthcare system that was facing an influx of requests. The package includes:
* Access to Salesforce Health Cloud: A patient relationship platform that takes a 360-degree view of every patient, enables the connection of various health teams and scale patient-centric experience.
* Salesforce Shield: It delivers the capability of encrypting and monitoring solutions along with providing an audit trail that will help organizations secure their data.
* Salesforce Community Cloud: A tool to pass information to the patients in a personalized order.
* Salesforce myTrailhead: It helps the organization in effectively training the healthcare staff in the latest health protocols.
2. Salesforce Care for Employee and Customer Support
It is a pre-configured employee help-center, customer service, and contact center application. The tool aims to make the process of addressing customer queries swift and effective. The tool enables the organization to:
* Launch self-service centers based on FAQ's and case management
* Develop a crisis communication page to pass relevant information to customers and suppliers.
* Employ AI-supported bots across communication channels like chats, SMS, Facebook, etc.
3. Salesforce care for Social Community Engagement