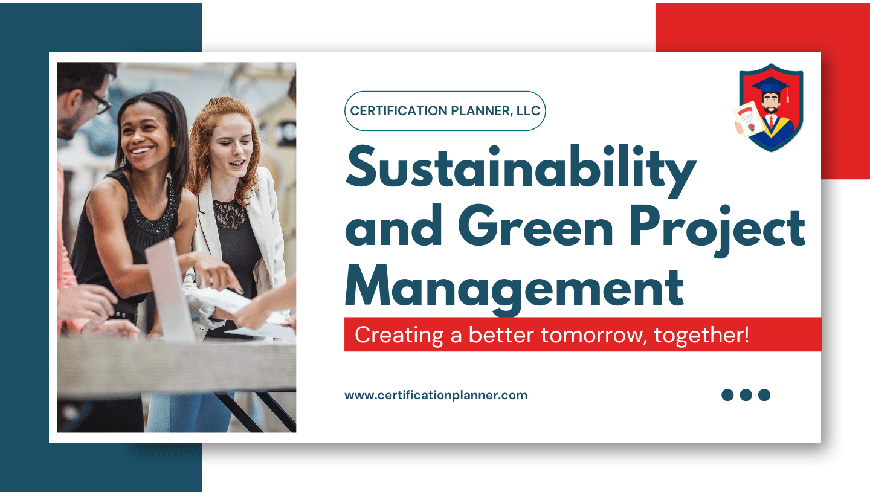 Sustainability and Green Project Management
Sustainability and Green Project Management: A Path to a Greener Future
In a world increasingly concerned with environmental conservation and the responsible use of resources, the concept of sustainability has become a cornerstone of modern project management. As businesses and organizations strive to reduce their carbon footprint and adopt eco-friendly practices, the integration of sustainability principles into project management processes has gained significant importance. This article explores the key aspects of sustainability and green project management, highlighting its principles, benefits, and challenges. Additionally, it presents three real-world examples and three case studies that showcase the successful implementation of sustainability in project management. Before concluding, we'll also touch on the importance of certification programs like PMP, CAPM, and PMI ACP in equipping project managers with the skills needed to lead sustainable projects.
Defining Sustainability
Sustainability, in the context of project management, refers to the practice of considering environmental, social, and economic aspects when planning and executing projects. It involves making responsible decisions that minimize negative impacts on the environment, promote social equity, and ensure long-term economic viability. Sustainability encompasses a broad range of principles, including reducing waste, conserving resources, promoting renewable energy, and fostering community engagement.
The Triple Bottom Line
To understand sustainability fully, it's essential to grasp the concept of the triple bottom line (TBL). The TBL framework evaluates the success of a project or business not only based on financial performance (the traditional bottom line) but also on its social and environmental impacts. In essence, the TBL seeks to balance economic, social, and environmental goals, emphasizing that a sustainable project must benefit all three dimensions.
Sustainable Development Goals (SDGs)
The United Nations has played a pivotal role in promoting sustainability through its Sustainable Development Goals (SDGs). These 17 global goals, adopted by all United Nations Member States in 2015, provide a shared blueprint for peace and prosperity for people and the planet. Many projects now align with one or more of these goals, underscoring the global commitment to sustainability in project management.
Benefits of Sustainable Project Management
Sustainable project management offers numerous benefits to organizations, communities, and the environment. Here are some of the key advantages:
1. Environmental Conservation
By integrating sustainability principles into project management, organizations can reduce their environmental impact. This includes minimizing waste generation, conserving natural resources, and adopting eco-friendly technologies and practices. The result is a more sustainable planet with reduced pollution and resource depletion.
2. Cost Savings
Sustainability often leads to cost savings in the long run. Projects that focus on energy efficiency, waste reduction, and resource optimization can lower operational costs, improve resource utilization, and increase profitability. For example, by using renewable energy sources, organizations can reduce their dependence on expensive fossil fuels.
3. Improved Reputation
Sustainable projects demonstrate an organization's commitment to ethical and responsible practices. This, in turn, enhances its reputation among customers, investors, and stakeholders. A positive public image can lead to increased trust and brand loyalty, driving business growth.
4. Regulatory Compliance
Many regions and countries have enacted environmental regulations and standards that organizations must adhere to. Sustainable project management ensures compliance with these regulations, reducing the risk of fines and legal issues.
5. Employee Engagement
Employees are increasingly drawn to organizations that prioritize sustainability and social responsibility. Sustainable projects can boost employee morale and attract top talent, contributing to a more engaged and motivated workforce.
Challenges in Implementing Sustainability in Project Management
While the benefits of sustainability in project management are clear, there are several challenges organizations may encounter during implementation:
1. Resistance to Change
Implementing sustainability practices often requires significant changes to existing processes and procedures. Resistance to change from employees, stakeholders, or management can impede progress.
2. Cost Considerations
While sustainability initiatives can lead to long-term cost savings, they may require upfront investments that organizations are hesitant to make. Convincing stakeholders of the value proposition can be challenging.
3. Lack of Expertise
Sustainable project management requires specialized knowledge and skills. Organizations may struggle to find or develop employees with the necessary expertise to lead and execute sustainable projects.
Examples of Sustainability in Project Management
Let's explore three real-world examples of organizations successfully incorporating sustainability into their project management processes:
1. Tesla's Gigafactories
Tesla, the electric vehicle (EV) pioneer, has made sustainability a core principle of its business model. One of its most significant sustainability initiatives is the construction of massive Gigafactories. These factories produce electric vehicle batteries at an unprecedented scale, facilitating the transition to clean energy and reducing greenhouse gas emissions. Tesla's commitment to sustainability is evident not only in its products but also in the way it manages and executes these large-scale projects.
2. The High Line in New York City
The High Line, a renowned elevated park in New York City, is a prime example of sustainable urban redevelopment. Built on a disused railway track, this project transformed an industrial eyesore into a thriving green space. Sustainability was at the forefront of the project, with a focus on repurposing existing infrastructure, using native plants to conserve water, and engaging the local community throughout the design and construction process.
3. The Sustainable Amazon Rainforest Conservation Project
The Sustainable Amazon Rainforest Conservation Project is a global initiative aimed at preserving one of the world's most critical ecosystems. This project involves various stakeholders, including governments, NGOs, and indigenous communities, in a collaborative effort to combat deforestation, protect biodiversity, and promote sustainable land use. The project demonstrates how sustainability can be integrated into complex, multi-dimensional projects with far-reaching environmental and social impacts.
Case Studies in Sustainable Project Management
Now, let's delve into three case studies that illustrate how sustainability can be successfully integrated into project management:
Case Study 1: The Sustainable Building Project
Project Description
A large construction company took on the challenge of building a sustainable office complex in an urban area. The project aimed to achieve LEED (Leadership in Energy and Environmental Design) Platinum certification, which is one of the highest standards for sustainable building.
Sustainability Initiatives
Efficient use of resources: The project used locally sourced, recycled, and low-impact materials to reduce the environmental footprint.
Energy efficiency: Solar panels, energy-efficient HVAC systems, and LED lighting were installed to minimize energy consumption.
Water conservation: Low-flow fixtures and rainwater harvesting systems were incorporated to reduce water usage.
Green transportation: The complex offered bike racks, electric vehicle charging stations, and incentives for carpooling to encourage sustainable commuting.
Results
The sustainable office complex not only achieved LEED Platinum certification but also became a model for environmentally friendly construction practices. It reduced energy and water consumption, showcased the benefits of sustainable materials, and inspired other developers to follow suit.
Case Study 2: The Sustainable Supply Chain Project
Project Description
A multinational corporation with a complex supply chain spanning multiple continents initiated a sustainability project to reduce its carbon footprint and improve the social impact of its operations.
Sustainability Initiatives
Carbon reduction: The project optimized transportation routes, switched to greener shipping options, and implemented energy-efficient warehousing practices.
Supplier engagement: The corporation worked closely with suppliers to ensure ethical labor practices and adherence to sustainability standards.
Transparency and reporting: A comprehensive reporting system was established to track and communicate sustainability metrics to stakeholders.
Results
Through the sustainable supply chain project, the corporation reduced its carbon emissions, improved supplier relationships, and increased transparency in its operations. It demonstrated a commitment to responsible business practices and attracted environmentally conscious customers.
Case Study 3: The Sustainable Agriculture Project
Project Description
A group of farmers in a rural community embarked on a sustainable agriculture project to enhance food security, protect natural resources, and increase local economic resilience.
Sustainability Initiatives
Organic farming practices: Farmers adopted organic farming techniques, eliminating the use of synthetic pesticides and fertilizers.
Biodiversity conservation: The project included measures to protect and restore local ecosystems, such as planting native vegetation and creating wildlife corridors.
Community involvement: Local residents were engaged in the project, providing labor and expertise while fostering a sense of ownership.
Results
The sustainable agriculture project not only improved crop yields and soil health but also strengthened the community's bonds and economic stability. It served as a model for sustainable agriculture practices that other communities could replicate.
As sustainability becomes increasingly vital in project management, certification programs play a crucial role in equipping project managers with the knowledge and skills needed to lead sustainable projects. Three notable certifications in this regard are the Project Management Professional (PMP), Certified Associate in Project Management (CAPM), and Project Management Institute Agile Certified Practitioner (PMI ACP).
The PMP certification, offered by the Project Management Institute (PMI), is one of the most recognized and respected credentials in project management. While it does not focus exclusively on sustainability, PMP certification covers essential project management concepts and best practices that can be applied to sustainable projects. Project managers with PMP certification are well-equipped to integrate sustainability principles into their project management processes.
The Certified Associate in Project Management (CAPM) certification is also provided by PMI and serves as an entry-level certification for aspiring project managers. CAPM certification provides a foundational understanding of project management principles, including those related to sustainability. It's an excellent starting point for individuals looking to enter the field of project management with a focus on sustainability.
The Project Management Institute Agile Certified Practitioner (PMI ACP) certification is designed for project managers working in Agile environments. While Agile methodologies are not specific to sustainability, the flexibility and adaptability inherent in Agile practices can be advantageous for managing sustainable projects that often involve dynamic and evolving requirements.
Conclusion
Sustainability and green project management have become imperative in today's world, where environmental and social concerns are at the forefront. Organizations that embrace sustainability not only contribute to a greener future but also reap numerous benefits, including cost savings, enhanced reputation, and increased employee engagement. However, implementing sustainability in project management is not without challenges, including resistance to change and cost considerations.
Real-world examples like Tesla's Gigafactories, the High Line in New York City, and the Sustainable Amazon Rainforest Conservation Project demonstrate the diverse ways in which sustainability can be integrated into projects of varying scales and purposes. Case studies further illustrate how organizations can successfully execute sustainable projects, leading to positive environmental and social impacts.
Certification programs like PMP, CAPM, and PMI ACP play a pivotal role in preparing project managers to navigate the complexities of sustainable project management. By acquiring these certifications, project managers gain the knowledge and skills needed to lead projects that balance economic, social, and environmental considerations, ultimately contributing to a more sustainable and prosperous future for all.