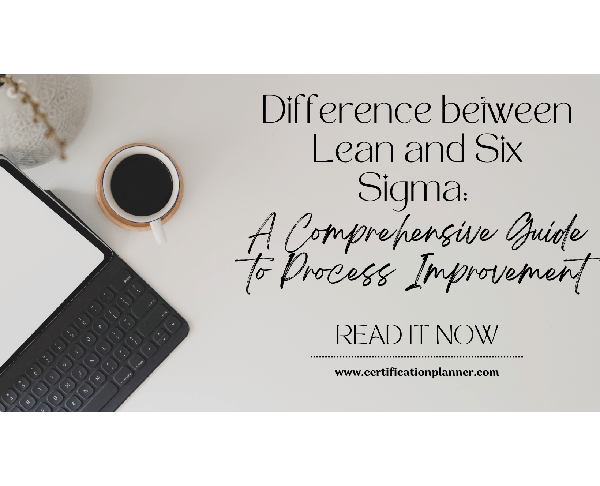 Difference between Lean and Six Sigma: A Comprehensive Guide to Process Improvement
In the world of process improvement methodologies, two of the most renowned and widely adopted approaches are Lean and Six Sigma. Both methodologies aim to enhance efficiency, eliminate waste, and optimize processes, but they do so in different ways. Understanding the key differences between Lean and Six Sigma is essential for professionals seeking to maximize their organizational effectiveness. In this article, we will delve into the disparities between these methodologies, explore the various belts associated with Lean Six Sigma certification, and highlight the importance of Lean Six Sigma certification in the year 2023.
1. Understanding Lean and Six Sigma:
Lean Methodology: The Lean methodology, initially developed by Toyota in the 1950s, focuses on reducing waste and enhancing flow in processes. It revolves around the principle of delivering value to customers with minimal resources. Lean identifies eight types of waste, known as "Muda," which include defects, overproduction, waiting, non-utilized talent, transportation, inventory, motion, and extra-processing. Lean aims to identify and eliminate these sources of waste to streamline operations and create a more efficient workflow.
Six Sigma Methodology: Six Sigma, on the other hand, was pioneered by Motorola in the 1980s and later popularized by General Electric. This methodology aims to minimize process variation and defects, ultimately improving process performance. The name "Six Sigma" refers to the statistical representation of process capability, where achieving a Six Sigma level means a process has only 3.4 defects per million opportunities. Six Sigma follows a structured approach known as DMAIC (Define, Measure, Analyze, Improve, Control) to identify and resolve problems systematically.
2. Key Differences between Lean and Six Sigma:
While Lean and Six Sigma share common goals of process improvement, there are fundamental differences in their core focus and methods:
- Primary Focus: Lean's primary focus is on eliminating waste and enhancing flow. It aims to improve efficiency and reduce the time taken to deliver a product or service. In contrast, Six Sigma primarily concentrates on reducing process variation and defects to improve quality and consistency.
- Tools and Techniques: Lean relies on tools like Value Stream Mapping (VSM), 5S, Kanban, and Kaizen events to identify and eliminate waste. It encourages a culture of continuous improvement through small incremental changes. Six Sigma, on the other hand, uses statistical tools such as Process Capability Analysis, Control Charts, and Design of Experiments (DOE) to analyze and improve processes in a data-driven manner.
- Customer Focus: Lean places significant emphasis on understanding customer value and delivering products or services that meet their needs efficiently. In contrast, Six Sigma seeks to ensure that the quality of products or services meets or exceeds customer expectations through defect reduction.
- Application Areas: While both methodologies can be applied across various industries, Lean is often more suited for manufacturing and repetitive processes, whereas Six Sigma's data-driven approach is valuable for complex and critical processes.
3. Understanding Lean Six Sigma Belts:
Both Lean and Six Sigma comes with a hierarchical belt system that denotes an individual's expertise and role in process improvement initiatives. Here are the essential Lean Six Sigma belts:
- Yellow Belt: Yellow Belts have a basic understanding of Lean Six Sigma principles and assist in process improvement projects. They work under the guidance of higher-level belts and support data collection and analysis.
- Green Belt: Green Belts are capable of leading smaller process improvement projects independently. They possess a deeper understanding of Lean Six Sigma tools and techniques and actively contribute to process optimization.
- Black Belt: Black Belts are experts in Lean Six Sigma methodology and lead complex improvement projects. They are skilled in data analysis, statistical tools, and project management, playing a crucial role in driving organizational change.