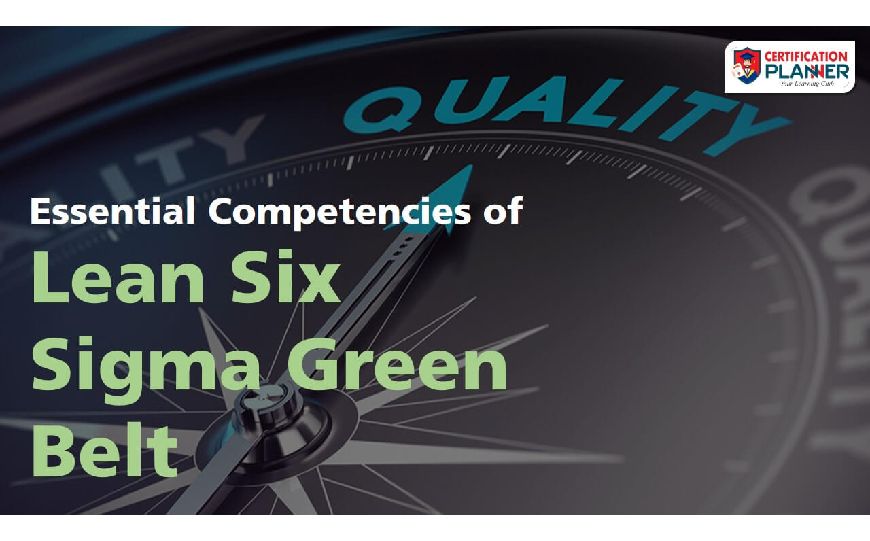 Essential Competencies of Lean Six Sigma Green Belt
Lean Six Sigma Green belt is one of the most popular Lean Six Sigma iteration designed for professionals who assist in quality management projects but are not entirely responsible for leading the project. In this article, we will identify the essential competencies that a Lean Six Sigma Green Belt holder should possess. The article will help you identify the areas that you will have to explore and develop if you are working in the quality management spectrum. And, if you are planning to take up LSS certification, you will develop an understanding of the essential traits & competencies that you will learn during the certification.
The improvement activities generally fall in the responsibilities of a Green Belt, and it is the Green Belt holder who will work with the local line to identify quality improvement opportunities. It is essential to understand that the crucial competency spectrum for a Green Belt holder goes beyond the analytical tools and includes interpersonal and soft skills as well.
1. Organizational Benefits Identification & Prioritization
This point deals with identifying the importance of using organizational benefits as a parameter to select projects. An essential task of a Green Belt holder is to identify organizational quality improvement opportunities in line with the organizational goals and how the resolution of problems will contribute towards achieving business goals.
2. Business Process Improvement
This is the most known competency of a Lean Six Sigma Green Belt holder. A Green belt holder should be able to identify wastes and variations in the business process and take active steps to eliminate them. It is also crucial for a Green Belt holder to understand when and where Lean Six Sigma will be an appropriate approach and explain what will be the impact of LSS.
3. Change Management
Lean Six Sigma can drive change in an organization. Lean Six Sigma promotes the practice of looking at processes through data-savvy leans to identify wastes. It is generally the task of Green Belt holders to initiate, monitor, and control these changes.
4. Data Acquisition
Lean Six Sigma is highly data-centric, and Green belt holders are responsible for seeking information in various forms. They are often accountable for validating the data and prepare them for analysis. So, the data acquisition task scope for Green belt holder includes identifying where the data might be found, how should the data be gathered, and what analysis tools and techniques should be used on it.
5. Leadership Development
Quality projects are generally led by Black Belt certified professionals. However, Green Belt holders often work in close coordination with Black Belt holders, and in turn, learns the minutes of leading quality improvement projects. It would be safe to say that Green Belt holders are leaders in making. While professionals can learn almost everything about Lean Six Sigma through training, Leadership is a trait that can be acquired by experience.
6. Creative Thinking
Identifying and capturing wastes in a process requires a birds-eye view of the whole process and creative methods. Green Belt holders, during a project, may have to be creative in finding ways to remove wastes & variations, thus making creative things an essential competency for Green Belt holder. This is another quality that can not be taught during a course, and one needs to acquire it through experience.
7. Customer focus
Voice of Customer is essentially the expectations, preference, and comments of customers from and on a product of service. The base of Lean Six Sigma is to improve the quality or value of a product or service. VOC often forms the base of a quality improvement project, and a Green Belt holder has to learn to identify & capture VOC.
8. Numeracy
Again, Lean Six Sigma is a data-centric process where a lot of information will be available in numbers. This makes proper interpretation of numbers a critical competency for Green Belt certified professionals. There is no denying the fact that there are several computational tools that can help quality experts, but the capability to understand numbers is always a good trait in the quality management spectrum.
9. Problem Solving
DMAIC of Lean Six Sigma is primarily a problem-solving method that is often used during quality projects. Apart from this, a Green Belt holder will face several problems in identifying issues with a system and finding alternate solutions for it. Problem-solving is another must-have competency for any Green Belt holder.
10. Risk Analysis
Green Belt certification holders often have to identify alternate routes to task completion. Alternative routes mean new risks. This makes general risk identification and analysis one of the core competency of Lean Six Sigma. A Green Belt certified professional should be able to identify and develop a process to identify and tackle emerging risks as well.
11. Self-review & Development
Black Belt certified professionals or leaders heavily rely on Green Belt holders with the improvement process tasks. With this level of responsibility, it becomes essential for Green Belt holders to self-access their performance and identify ways in which they can develop their skills.
12. Six Sigma Tools
Understanding and effectively managing six sigma tools are crucial for the success of improvement processes. Luckily, professionals can easily learn about various six sigma tools during training or through organizational uses.
13. Stakeholder Management
To have knowledge of stakeholder management, describes types of stakeholders, and appropriate techniques for stakeholder management is another must-have competency for Green Belt certified professionals.
Here you go. These are the 13 most essential competencies for a Green Belt certified professionals. One can develop several of these competencies through structured learning and training. For the other skills, a professional will have to be part of several improvement projects.
How can we help?
At Certification Planner, we have brought together industry experts and lead instructors to develop a Lean Six Sigma Green Belt course that includes all the knowledge areas necessary to master quality improvement. Our Lean Six Sigma Green Belt certification course also includes Case studies that will give you a taste of real-life applications of the knowledge gained during the training. That is not all; we provide support from certified staff throughout your learning process, and even after. Explore Certification Planner's Lean Six Sigma Green Belt Certification training options.
Acquiring Lean Six Sigma Green Belt certification not only validates your experience but also provides a chance to develop knowledge competencies. However, you must spend time in developing other crucial competencies for your success in the quality management spectrum. Visit us at to explore our complete training catalog or connect with our learning experts at to get your questions answered. Happy Learning!