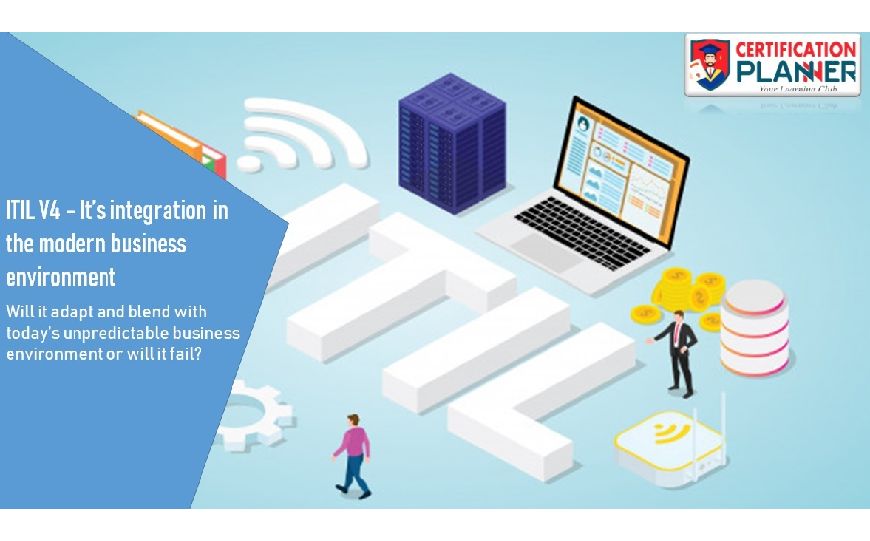 ITIL V4 and Its Integration in Today's Business World
Businesses have undergone significant developments in the last couple of decades. The dynamics of doing business, whether it is marketing products and services, advertising, and selling products and services, everything that we traditionally followed has changed. The enormous transformation in the business world has led to most organizations embracing an agile framework, lean methodologies, changes in the infrastructure, and not to forget the wide acceptance of the digital business model. The constant changes in the business environment have led to advancements in the IT Service Management purview.
What is ITIL?
The Information Technology Infrastructure Library or very famously abbreviated as ITIL is a framework of Information Technology Service Management (ITSM). ITIL certification is a promising certification for professionals who work in the IT Service Management division. The ITIL framework is designed to help organizations to increase their productivity, manage risk, improve customer relationships, and lower the service deployment cost. The main focus of ITSM is to provide IT-related support in their respective organizations, which includes meticulous planning, designing, delivering, operating and controlling. It is a customer-focused process, and its approaches are towards improving efficiency in an organization and achieve service delivery. With the ITIL framework, IT administrators are no longer back-end supporters; they are partners in providing service to the business.
A brief history of ITIL
AXELOS is the main body and owner of ITIL. They maintain the framework and provide accreditation to training platforms and examination institutes. The journey of ITIL started in 1980, and since then, it has undergone tremendous changes and updates. It's no wonder change is constant in any industry. ITIL has also gone through changes since its inception in 1980. In 2001, ITIL V2 was introduced, and then it was later updated to ITIL V3 in 2007. ITIL V3 has undergone tremendous improvements and the introduction of the lifecycle of ITSM. The five core concepts or lifecycle of ITSM are Service Strategy, Service Design, Service Transition, Service Operation, and Continual Service Improvement. ITIL V3 has now transitioned to ITIL 4 version, which launched in February 2019.
What are the changes in ITIL?
Relevancy in business comes with adapting to the changes. The paradigm shift from the lifecycle model to Service Value System and Service Value Chain is to meet the ever-increasing complex working of organizations. Most organizations have adopted agile methodologies. It is a requirement to meet the ever-changing dynamics and working of organizations. ITIL 4 has embraced frameworks from Lean, DevOps, and Agile. It has adopted the four dimension model such as people and organization, information and technology, partners, and processes and value streams.
The ITIL V4 model follows a holistic strategy for IT service management. The central focus is on maintaining a simple and functional approach. The aim is to shift the emphasis on value, risks, costs, and results. Though incident management, problem management, and change management will still be the main function of ITSM, it will also take into consideration people, roles, competencies, and skills. ITIL V4 will now immensely focus on value creation.
Principles of ITIL
ITIL's focus is to not only to be an IT service provider but be a partner in the business. It is quite clear from its seven principles that focus is on adding value to the organization. The seven principles are as below:
Focus on value
Start where you're
Progress iteratively
Collaborate and maintain transparency
Work holistically
Keep it simple
Optimize and automate
These principles allow IT professionals to not only take approaches that are defined but also operate through difficult arrangements. To meet these requirements, the ITIL V4 has a new set of modules.
Certification Levels:
The new ITIL certification levels are as follows:
ITIL 4 Foundation Certification
ITIL 4 Managing Professional
ITIL 4 Strategic Leader
ITIL Master Certificate
The ITIL 4 Managing Professional has four modules:
ITIL 4 Specialist Create, Deliver and Support
ITIL 4 Specialist Drive Stakeholder Value
ITIL 4 Specialist High Velocity IT
ITIL 4 Strategist Direct Plan and Improve
The ITIL 4 Strategic Leader has two modules:
ITIL 4 Strategist Direct Plan and Improve
ITIL 4 Leader Digital and IT Strategy
The transition to ITIL V4 model
The transition from ITIL V3 to ITIL V4 is a well thought and ambitious change. The ITIL V4 has shifted to focus on practices rather than on processes, which makes the framework more flexible, ready for the future, and more adapting to the digital transformation that industries are witnessing. From the systematic process followed by ITIL V3, ITIL V4 has embraced the holistic approach with the four dimensions focusing on people, systems, partners, and processes. The Service Value Chain (SVC) operating model represents six important steps an organization takes in creating value:
Plan
Engage
Design and transition
Obtain or build
Deliver and support
Improve
The Continuous Service Improvement (CSI) model of ITIL V3 has been re-introduced in ITIL V4 as Continual Improvement. It focuses on creating an integrated system for co-creation of value, delivery, and enablement.
The increasing complexities in organizations require an IT service management that understand their needs in adding value to people and system. ITIL V4 is the new improved IT service management model that will blend perfectly and work with the unpredictable environment of modern business.
ITIL Courses with Certification Planner:
We at Certification Planner, LLC, hosts ITIL training programs in various cities. We are an accredited training platform and exam center by AXELOS and PeopleCert. Our training modules are aligned with AXELOS guidelines. If you would like to know more about the ITIL courses, you can connect with us at support@certificationplanner.com or speak with our experts at +1 8553221201. Visit our website to know about different ITIL courses and certification programs.