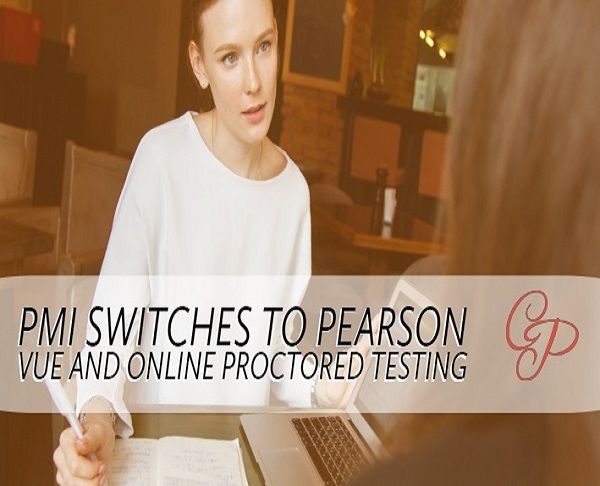 PMI Switches to Pearson VUE and Online Proctored Testing
The latest news from Project Management Institution comes as the transition of PMI test partner from Prometric to Person VUE and the launch of Online Proctored Test for CAPM and PMI-ACP. A highly appreciated step, there is much that does not meet the eye at first. Both the change of test partner and the introduction of the Online Proctored Test comes with multiple advantages.
Online Proctored test system has been gaining popularity in recent years and is being taken up in various sectors and conditions ranging from recruitment assessment, college assessment, in-company assessment, and certification exams. In this article, we will discuss the minutes of the introduction of the new test partner and the new system of test-taking by PMI.
Starting with the introduction of Pearson VUE, the step aims at improving the overall test-taking experience. So, the major question that comes up is, 'What does the change in Test Partner add to the plate?'
Pearson VUE brings the following advantages:
Additional test location: With Pearson's VUE, numerous new test locations have been added. Taking up the test in a convenient location has never been easier.
Online Proctoring: Another bright option being facilitated by Pearson is the availability of Online Proctoring. PMI has already announced the availability of an Online Proctored test for CAPM and PMI-ACP.
The additional benefit for U.S. Service Members: With a global U.S. Federal and military on-base test center network available with Pearson, US service and government members can take up certification in their service area, no matter in which part of the globe it is.
The advantage to PMI: The advanced registration and scheduling system offered by Pearson will allow PMI to effectively manage test center hours along with providing candidates with scheduling flexibility.
How will the Transition Happen?
For a duration, both the Prometric and Pearson will be available for scheduling and testing. Candidates who have already scheduled their test with Prometric will mostly remain unaffected by the change. However, anyone who has scheduled a test on or post 1st of June 2019 with Prometric, will be transitioned to Pearson VUE. This might result in the change of test center. The timeline for the change is mentioned below.
How would the Scheduling Process work with two Vendors?
There is no major change to the scheduling process. Candidates will be directed to either of the vendors based on the scheduled time by the candidate.
What are the Benefits/Limitation of Online Proctored Testing?
We would now turn our gaze towards the Online Proctored testing option made available by PMI. There are several benefits that tag along with the online proctoring examination.
Convenience: Going to a test center to take up examination does include inconvenience related to traveling, locating examination center, etc. No more hassle with traveling! Online proctored testing enables a person to take up a test from the comforts of his or her home or office.
No Disturbance by Other Exam Takers: Anyone who has taken an in-class test knows that there is some level of disturbance caused by other test-takers. This is completely eradicated by online proctored exams.
Less Anxiety: Giving an examination from a familiar location like your home or office helps in reducing the anxiety associated with taking an exam. You can now take up examination from your own sphere!
While there are benefits, there are some limitations to Online Proctored testing as well.
Loss of Privacy: With online proctored examination, you and your work area will be constantly monitored and even recorded. You will have to give up the right to privacy for the duration of the examination. If you are someone who is not comfortable with this, the online proctored examination might not be for you.
Higher Risk: Test centers take deliberate and recursive steps to avoid any kind of disturbances. Taking up an examination from home or office includes a higher risk in the form of a power cut or a system failure. If you run such risks, it is suggested you take appropriate steps to nullify these risks or opt-out of online proctored testing.
More potential for cheating: There is more scope of cheating in an online proctored test thus dampening the overall standard of the certified community.
With the knowledge of the benefits and the limitations, you are now in a better place to decide if Online Proctored Testing is correct for you. There are a couple of other doubts that might arise with the launch of Online proctored testing for and we will try to address them.
Examination fee: Examination fee remains the same for both in-center and online proctored examinations.
Difficulty level: Difficulty level for both types of the examination remains the same.
Availability for other Certifications: If PMI has made the online proctored testing option available for CAPM and PMI-ACP, it is natural to expect it to be available for more popular certifications like PMP. However, the online proctored examination is available only for two certifications as of now. PMI might be running them as a pilot idea and we can expect it to be available for the rest of the courses n the future.
With this, we hope all your questions related to Pearson VUE and PMI's online proctored examination have been answered. It is time for you to plan your certification and give the desired boost to your career growth!
Both CAPM and PMI-ACI certifications have their own utility and we can do much more than informing you about the examination process. Certification Planner is a leading training provider and we are committed to connecting you to the best training solutions available. Prepare for CAPM certification with our front-of-the-class CAPM Training Course. If you are planning to take PMI-ACP certification, we have something for you as well. Out PMI-ACP Training Course provides prime learning with the best learning experience.
If you want to know more, contact us at support@certificationplanner.com or visit us at www.certificationplanner.com. You can also call us at +1 4084185586. Happy learning!