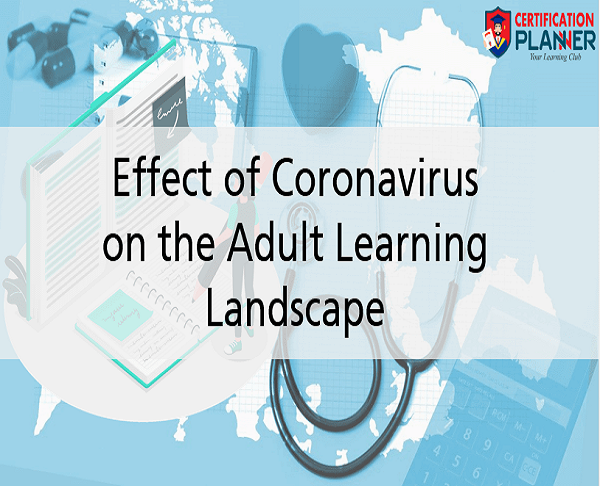 Effect of Coronavirus on the Adult Learning Landscape
John Dale, an experienced project manager from Florida, aspiring to gain PMP credentials, had to cancel his PMP training Bootcamp scheduled for the 11th of this month as a precaution against the infamous COVID-19. This was not an isolated incident; over 290 million learners of all age groups across the world have been affected by the COVID-19 or the Coronavirus. Learners across the globe are forfeiting training opportunities as they are hesitant to go to public venues and to meet new people.
While the number of confirmed cases in China and South Korea are among the top of the list, the spread of COVID-19 to European countries and North America has raised the concerns of health experts. While organizations are looking for a more stable answer to avoid the further spreading of the COVID-19, the education industry has been quick to take preventive measures. Schools are closed in numerous countries, university students are being called back from study abroad programs, mass training sessions are being postponed across various organizations
All of this brings us to an important question: "Is it fine to put learning into quarantine with the Coronavirus?"
The obvious answer is "NO." While young learners may have time, the same cannot be said for adult learners. It is important to note that COVID-16 is bound to have an impact on the global economy. Countries are closing their borders; manufacturing facilities are being put on hold, and the daily work across multiple organizations is getting affected. A direct result of this is a drop in the global economy. For example, annual GDP may drop by up to 2.4%. Such a spike can manifest into recession, which will increase the trouble for working professionals. Very soon, it is going to be crucial for working professionals to stay relevant to the market and fight possible lay-offs. While several of you would be confident in this respect, almost everyone would identify that continual learning and improvement is necessary to stay relevant.
Online Learning: The Way Out
To battle the learning crisis, education organizations are quickly leaning towards the online medium of learning. It is a direct answer to the problem. With online learning, learners can take up lessons from the safety of their homes and prevent exposure to COVID-19.
The education market has long started to develop online learning modules, and they are now being used across the globe to deliver lessons. While online learning has been working on the fringes of curriculums, one might consider this situation to be the required push to incorporate online modules into mainstream education completely. Online learning provides several benefits for the young as well as adult learners.
1. Safer option
With the capacity to conduct lessons from the safety of the house, learners will not have to go to schools, universities, and risk exposure to COVID-19.
2. Abundance of facilitators
Although the education industry has majorly been utilizing online modules for support learning, there is an abundance of facilitators in the domain. There are applications through which one can create and deliver lessons, or take assessments, or even communicate with teacher/trainer in real-time.
3. Easy to setup
While the preparation of learning models can take time, learners can easily take them up through various digital mediums.
Live-Online Training for Adult Learners
The general shift towards online learning is evident in adult learning and professional certification training as well. Professionals who were more inclined towards in-person training are readily taking up online learning models. Mr. Daniel, the Training Manager at Certification Planner, mentioned that the company is getting more enrollments for online training than what they had ever received.
However, online learning does have its limitations. Schools, colleges, and tech giants have been struggling to make it as practical as in-person learning. Factors like lack of trained teachers, lack of infrastructure, the mindset of young learners, lack of human touch, and several other reasons notably limit online learning.
However, adult learning holds enormous advantages in this spectrum. "Live-Online training," a type of online education, has been performing well for adult learners. It overcomes most of the challenges of learning through online and virtual mediums. Factors that contributed to the success of live-online training are:
1. Tried and Tested Method
Unlike the online models for young learners, which is relatively untested, live-online training for certification boot camp is a tried and tested learning model for adult learners. Almost every training facilitators are providing this model of learning, and it is already one of the most favored learning models among people taking up certification training.
2. Sufficient Infrastructure
Most of the working professionals have access to internet connectivity and laptop, the only two requirements for live-online training.
3. Availability of technology:
The execution of such classes is quite simple. Instructors and learners meet through any virtual meeting place. There are several providers like goto meeting, goto training, etc. for such technology.
4. Availability of Proficient Instructors
Unlike in the case of young learners, most of the instructors involved in adult learning are already acquainted with the technologies involved. Generally, they have handled live virtual training or are keen to do so.
5. Nature of Learners
A significant factor why online learning is facing challenges with young learners is related to the learning mindset. In the case of young leaders, the learning initiatives come from the teachers. However, adult learners are self-motivated and are already ready to go the extra mile to learn.
6. Easily Scalable
With training facilitators running live online training for some time, they have developed the infrastructure to scale the model to accommodate more learners rapidly.
COVID-19 has indeed resulted in global disruption of learning, but organizations like Certification Planner are hard at work to provide safe, convenient, and quality training opportunities to adult learners. While the drift towards live-online and other online training models is already visible, it is predicted to grow even more. While we suggest caution to everyone, we strictly recommend against putting your career in quarantine with the COVID-19.