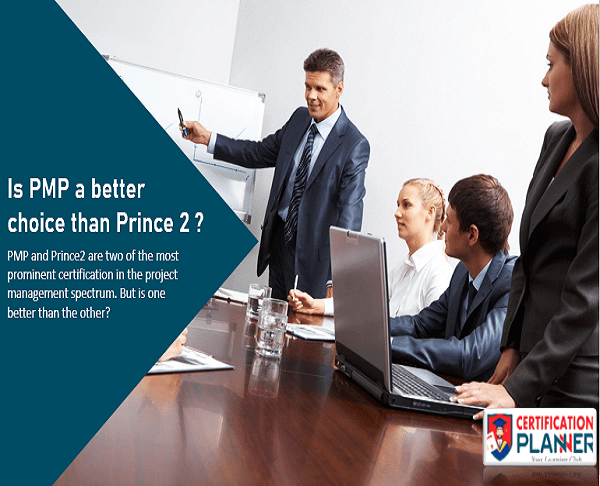 Is PMP a better choice than PRINCE2?
Is PMP better than PRINCE2? Which certification will add more value? It is indeed quite confusing to choose between PMP and PRINCE2. Therefore, it is imperative to understand the difference between both the certifications to decide which one is more beneficial for your career path. Before we find the differences, let's look at them independently.
Project Management Professional (PMP)
PMP is a globally recognized certification in the Project Management Purview. PMP is administered by the Project Management Institute (PMI), US.
The Project Management Professional (PMP) is a registered mark of the Project Management Institute, Inc.
Most organizations readily employ project managers who are PMP certified. The Project Management Book of Knowledge (PMBOK) is the guideline for PMP certified professionals. PMI updates the PMBOK guide on a timely basis. The current PMBOK guide is the 6th edition. The Project Management certification provides knowledge about various PMP methodologies, techniques, and tools that are essential to lead a project team. A PMP certified professional earns the confidence and comprehensive knowledge to manage a project successfully and produce desired results. The PMP certification will not only help in advancement in career but also in increasing the earning potential.
The Projects IN Controlled Environments (PRINCE2)
The Prince2 follows the process-based methodology in managing projects. It follows a systematic and standardized approach. Though PRINCE2 is extensively used by the government of the United Kingdom, it is globally recognized and used by the private sectors. AXELOS owns the PRINCE2 certification. Along with Project Management techniques and framework, PRINCE2 certification will also provide knowledge on topics such as IT service management and portfolio and risk management. The PRINCE2 certification will make you capable of handling and executing complex projects with ease. Since it follows a model approach, each team member of the project is quite aware of their responsibilities. The PRINCE2 certified professionals follow a very systematic approach as they go in-depth with the technique of handling a project.
Now that we have looked at PMP and PRINCE2, let's compare them and understand their differences:
Location wise importance:
Both PMP and PRINCE2 are internationally accepted certification. Both have great value and reputation around the globe. However, certain countries prefer one over the other. PMP has its headquarters in the United States; hence, it is no wonder that PMP has priority over PRINCE2 in the United States and other neighboring American countries. PRINCE2 has its origin from the UK; hence, it is widely accepted in the UK, Australia, Netherlands and most of the European countries including Germany, Poland, and Denmark. Africa, Middle East, and Asia give equivalent value to both the certification. Hence, it is safe to say that both certifications have equal importance in different regions.
The rise in Salary:
If the salary of a PMP and PRINCE2 certified professional is compared, PMP tops the chart. A PMP certified professional in the US earns more than their PRINCE2 certified counterparts in the UK. The average salary of a PMP certified professional in the US is roughly around $110,000. Whereas, the average salary of PRINCE2 certified professionals in the UK is around $85,000. Some surveys have predicted that there would be a further increase in the salaries of PMP certified professionals.
PRINCE2 and PMBOK Guide:
The knowledge that PRINCE2 and PMBOK guide provides are different from each other. PRINCE2 guide deals with 'W' questions such as what, whom, when, etc. PMBOK guide follows 'How' based questions. It is difficult to choose which one is better. Both have their advantages and provides a comprehensive framework, technique, and tools to handle a project from the start to the closure.
Stages of PMP and PRINCE2:
PMP follows a standard 5-step process or lifecycle of a project; namely, Initiate, Plan, Execute, Monitor & Control, and Closing process. PMP Project managers follow this standard process for every project they handle. On the other hand, PRINCE2 follows the 7-step process; they are Business Case, Organization, Quality, Plans, Risk, Change, and Progress. PRINCE2 certified professionals follow each of these steps while handling their projects.
Now that we have compared them, we can say both are a valuable certification to hold for managing a project. If you have to select one of the certifications, your decision would more likely depend on your location. Now that we know both are neck to neck, let's dig a little deeper and look at their advantages:
Benefits of PMP Certification:
Better Salary – PMP certified professionals earn a significant amount of salary, and their increase in remuneration is frequent.
Employment Opportunities – PMP is a globally recognized certification. It's quite easy for a PMP certified professional to get employed. There is a huge demand for PMP certified professionals in various sectors.
PMI Member - A PMP certified professional has easy access to the global Project Management forum. Their access to a global network of PMP certified professionals proves quite beneficial especially in terms of knowledge sharing or if one of them is looking for a project management job.
Benefits of PRINCE2 Certification:
Better Salary – A PRINCE2 certified professional will bag a good salary package than their non-certified peers, especially in the UK, European countries, and Australia. However, it could be a bit lesser than a PMP certified professional in the US.
Employment Prospects – PRINCE2 certification is an internationally valued certification. Hence, there is no hassle to get a job for a PRINCE2 certified professional.
Standardized and systematic approach – PRINCE2 follows a standard approach when running a project. The approach followed for documentation, filing system, and procedures are very systematic and standardized. There is no confusion in any process which leads to successful project management.
Self-assessment – Periodically, updates are provided, and a self-assessment is made to check if they are on track with the project and adding value to the project and the organization. A well-planned methodology is followed to avoid wasting time, money, and resources.
Therefore, we can conclude that both have their respective benefits. There is a difference in the approach to handling a project. PMP is more aligned to the knowledge and skills required to manage a project; whereas, PRINCE2 focuses on the processes and framework to execute a certain type of project in a controlled environment. Both follow different techniques and terminologies, which could lead to be confusing.
It is advisable to choose the certification according to your job location and job prospects. Is it advisable to do both the certifications? Both will add more value to your profile and will help in understanding techniques and tools followed by both the certification bodies.