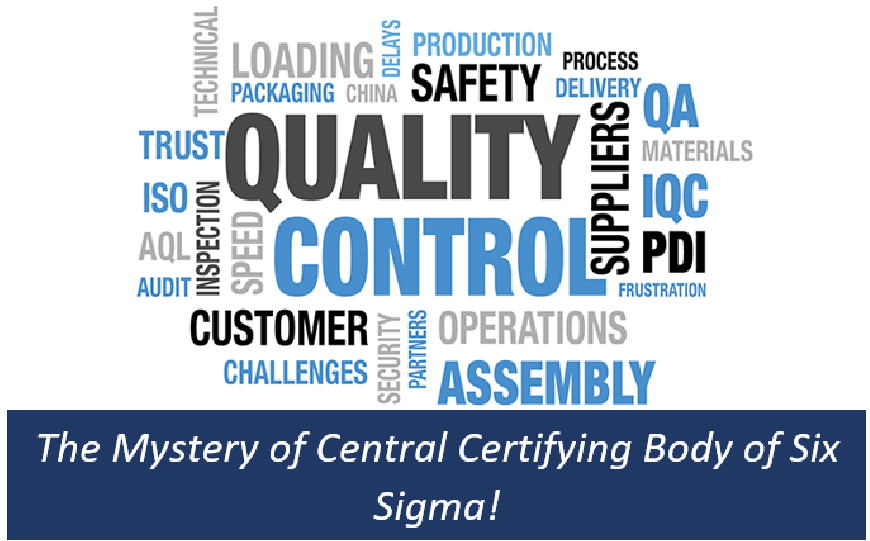 The Mystery of Central Certifying Body of Six Sigma
Working in the professional training spectrum, we get multiple queries related to certification courses, related examinations, and accreditation validation. One of the most prominent queries is related to Six Sigma.
"Who is the central governing body for Six Sigma?
Are you accredited to it?
What is the examination fee?"
Well, the answer to the first question is – None.
Six Sigma is a highly flexible certification course and is not governed by any central body. The certification can be provided by any individual who has Six Sigma Blackbelt certification, via the organization he or she works for. The examination fee charged is also up to the discretion of the certification provider. Typically, the organizations that provide Sig Sigma certification are:
Educational institute/university
Consulting firms
For-profit Professional associates
Organizations providing internal certifications.
This brings up the question 'if there is no governing body, who decides what has to be included in the Six Sigma course and what has to be eliminated?'
Every organization or certified professional facilitating the training has complete control over what they want to include. Multiple companies providing certification to its employees often alter the content of Six Sigma certification to meet their training needs and objectives. From the time Six Sigma was first applied in 1980, there has been very little addition to the Six Sigma methodologies. As such, the content being delivered by most of the training facilitators are almost the same.
However, there are a couple of organizations that claim to be the Central Certifying Body. These claims are highly questionable.
Even Motorola (the company where Six Sigma was first applied) does not claim to be the central certifying body.
At most, these organizations could have tried to standardize Six Sigma Certification. We can give a point to them for positioning this strategy in the market but not for being the Central Certifying body.
Council for Six Sigma certificate is a privately-owned body that mentions "Official Industry Standard for Six Sigma Accreditation" on its website. The website also mentions that the goal of the organization is to create a set of standards for Six Sigma certification. However, this does not mean that it is the central governing body. It just showcases an attempt to structure and standardize the Six Sigma training. The standards set by the organization is obviously open to debate. Council for Six Sigma certificate only mentions the list of other organizations/institutes that are affiliated with it. Minimum student contact hours mentioned by Council for Six Sigma certificate does sound logical, but the absence of address raises a red flag.
International Association for Six Sigma Certification is another prominent name in the Six Sigma certification spectrum. The content of BOK provided by IASSC is roughly the same as what you will get from any other vendor. Accreditation with IASSC is not free.
While the liberty to alter the content for Six Sigma helps organizations structure their training to meet certain objectives, it does lead to a couple of shortcomings.
We at the Certification planner believe in helping our clients systematically explore themselves and facilitate training solutions to bridge the gap in knowledge or skill. With courseware aligned with industry standards and fine-tuned by Master instructors, who are experts in training professionals just like you, we deliver the best in terms of quality and learning experience.
CP Lean Six Sigma certification includes an open book online exam with multiple attempts. Course material is developed by our Master Black Belt instructors and it is aligned with industry standards.
"You decide what you want to learn, we will bring the learning to you"
If you have any query drop an email at support@certificationplanner.com and our training experts will get in touch with you or visit us at www.certificationplanner.com. Happy Learning!