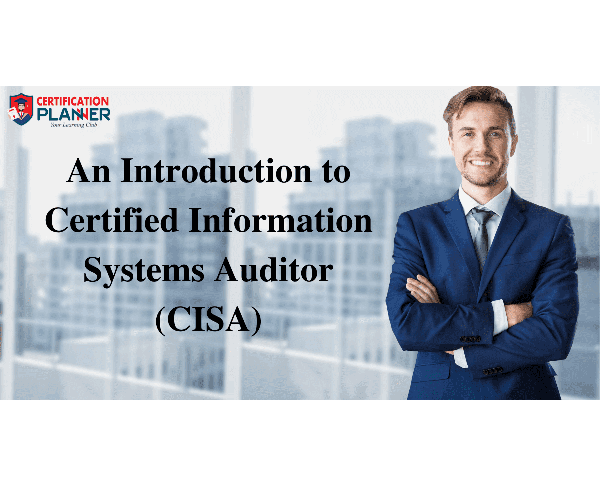 An Introduction to Certified Information Systems Auditor (CISA)
Certified Information Systems Auditor (CISA) is a high standard certification and highly sought after accreditation issued by Information Systems Audit and Control Association (ISACA) and accredited by ANSI. The CISA is considered the gold standard for professionals responsible for audit, control, monitoring, and assessing an organization's Information Technology and business systems.
CISA is designed for IT auditors, audit managers, consultants, and other security professionals. CISA validates professionals' knowledge and expertise in auditing, controlling, monitoring, and assessing an organization's Information Technology and business systems. CISA professionals hold the following responsibilities:
To identify and manage vulnerabilities.
Implement an audit strategy for information systems (IS)
Planning audits that can be used to protect IT assets
Executing the audits in compliance with processes
Implement solutions to rectify any detected risks
Sharing audit results to the responsible stakeholders
Providing recommendations based on the audit result
Performing reexaminations of the audits based on provided recommendations
Employ control mechanisms
How to become CISA?
To become a CISA, candidates must follow the below steps:
Meet the CISA experience requirement
Complete and pass the CISA exam.
Apply for CISA certification.
Adhere to ISACA's Code of Professional Ethics.
Follow ISACA's Continuing Professional Education Program.
Comply with ISACA's Information Systems Auditing Standards
CISA experience requirement:
At least five years of professional information systems auditing, control, or security work experience within the past ten years.
Candidates can receive a waiver for up to three years of experience if they have the following:
Maximum of one year of IS experience or one year of non-IS auditing experience
The equivalent of a two- or four-year degree, which can be substituted for one to two years of experience
A bachelor's degree or master's degree from a university that teaches the ISACA-sponsored curriculum, which can be substituted for one year of experience
A master's degree in IS or IT from an accredited university is equivalent to one year of experience.
CISA Exam format:
Question Type: Multiple choice questions
Duration: 4 hours (240 minutes)
Questions: 150
Exam Grade: 200-800 points
Passing grade: 450 points
Registration fee: ISACA Member: US$ 575
ISACA Nonmember: US $760
CISA Exam Curriculum:
CISA examination involves five main domains. The percentage of domains involved in the CISA exam:
Domain 1: The process of auditing information systems (21%)
Domain 2: Governance and management of IT (16%)
Domain 3: Information systems acquisition, development, and implementation (18%)
Domain 4: Information systems operations, maintenance, and service management (20%)
Domain 5: Protection of information assets (25%)
What are the benefits of getting a CISA?
There are many benefits of getting a CISA. This is an ideal certification for those in Information Technology and business systems or experts in information and operational risk management, specialists in IT infrastructure security, internal control, and IT audit.
Global recognition: CISA professionals are globally recognized and considered high standard certification in IT and business systems.
Lucrative job opportunities: As CISA validates the knowledge and expertise of auditing, controlling, monitoring, and assessing an organization's Information Technology and business systems. There are many job opportunities.
Higher pay: CISA is one of the highest-paid certifications across the globe.
Higher credibility: CISA ensures organizations that the candidate holds expertise in vulnerabilities management, instituting control, and ensuring compliance.
What are the job opportunities for CISA certified professionals?
There is a massive demand for CISA certified professionals all over the world. After getting certified, CISA holders can find a job in the following roles:
Internal auditor
Public accounting auditor
IS analyst
IT audit manager
IT project manager
IT security officer
Network operation security engineer
Cybersecurity professional
IT consultant
IT risk and assurance manager.
Privacy officer
Chief information officer
According to Payscale.com,
An average annual salary of a CISA professional in the US is:
The average annual salary for various roles of CISA professionals:
Conclusion:
Enhance your skills and knowledge in the field of Information technology and business systems. Enroll in CISA and accelerate your career with Certification Planner.
Reach out to us at support@certificationplanner.com or +1 8553221201 if you want to discover more about your training options. Happy Learning!