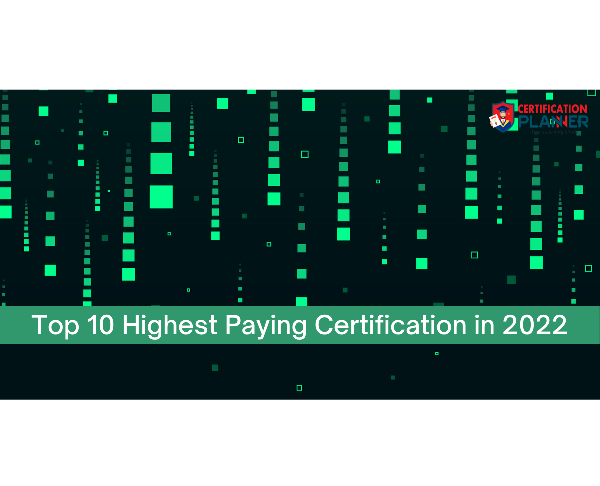 Top 10 highest paying IT certifications in 2022
While you learn from the impact of Covid-19 which is leading to recovery now, there is a slow and steady rise in the stabilization of job opportunities. IT certifications are one of the top-paying certifications amid the Covid-19 impact. It creates a demand for your skills.
There are many IT certifications to pick from, besides you should choose the appropriate certification based on the kind of employment you hope to obtain and the salary you hope to earn. Let's go through the top 10 highest-paying IT certifications one by one.
GCPC certification is one of the highest-paying certifications in the industry, which debuted on the market in the year 2017. It exhibits professional expertise to design, developing, and running a cloud-based architecture of the Google Cloud Platform (GCP). Google Cloud Platform offers its services across 90 areas, which include networking, machine learning, application build, management, database, and many more.
It is said that 55% of Google Cloud Platform customers are from the United States, 7% of users are from the United Kingdom, and 5% are from Canada.
Certified Professional Cloud Architect certification holder's average annual salary is about $139,529.
(PMP) The Project Management Professional is the globally leading project management certification. In addition to predictive, agile, and hybrid approaches, the PMP validates project leadership skills and expertise in any method of working. It develops careers for project managers across industries and assists organizations in finding the people they need to work more actively and perform excellently.
There is an increasing demand for project managers throughout the world. Many organizations are qualifying their employees for PMP certification. This erudition is heading to extended need and demand for proficient and skilled managers.
The annual salary assessment for the Project Management Professional certification holders is about $135,798.
3. Certified Scrum Master (CSM)
Certified ScrumMaster is an entry-level certification that exhibits your experience of Agile Scrum and its practices. This certification helps you to direct the Scrum team, teach them the structure and drive them to achieve at their highest level.
As stated in Insight Dice,
Scrum Master is an expert in strong demand, with 65,915 job postings universal over the past 12 months. It is also said that the demand for Scrum masters will increase 37.9 percent over the next decade.
The Certified Scrum Master's annual average salary is estimated at around $135,441.
The AWS Certified Solutions Architect – Associate certification is one of the most credible IT certifications globally available. According to a study, the AWS certification was the third-highest-paying IT certification in North America in the year 2020. Every individual with AWS certifications ranks above the list of the highest-paid experts.
According to a report, 82% of hiring managers say cloud certifications make a candidate extra engaging and, 87% of hiring managers value firsthand expertise and certifications across a university degree when assessing candidates.
The AWS Certified Solutions Architects' annual average salary of around $132,840.
An Amazon Web Services Certified Developer is a specialist in uncovering and controlling applications on AWS. It is recommended that candidates have knowledge operating with one or more programming languages and AWS before been examined for certification. The certification examination includes an extensive range of topics which include applying Software Development Kits (SDKs) to work with AWS services.
According to a recent report, nearly 60% of cloud computing job postings demand AWS-related skills. The demand for this certification holder remains high.
The AWS Certified Developers can earn an average salary of around $130,369 annually.
(MCSE) The Microsoft Certified Solutions Expert: Server Infrastructure certification verifies that you have the abilities needed to run an extremely effective and advanced data center, with proficiency in identity supervision, systems management, virtualization, networking, and storage.
Microsoft's shift to file-based certifications heads to the Server Infrastructure division into four certifications. Many people still hold this certification, hence MCSE is maintaining its place on this list.
Cloud Platform and the Server Infrastructure MCSEs both earn an expected average salary of $121,288 annually.
The IT Infrastructure Library (ITIL) certification is a globally acknowledged IT service management certification. It is an entry-level certification in the field of IT service management that provides applicants with a comprehensive introduction to the IT service lifecycle. The ITIL instructs learners how to recognize requirements from a business and IT prospect, craft solutions, and frequently update tech-enabled assistance. The ITIL Foundation is one of the few certifications that acknowledge the connection between the world of industry and technology.
ITIL Foundation certified managers' salary is estimated at an average of $120,566 annually.
In today's digital world of evil-mindedness and identity theft, information security has never been more crucial. Certified Information Security Manager (CISM) is one of the most run-after certifications in the cybersecurity industry. CISM certifies the skill and understanding in developing and managing an enterprise Information Security (infosec).
CISM is the most in-demand certified by ISACA, which operates the skill of its 460,000 working experts in information and support, cybersecurity, risk, governance, innovation, and risk.
On average, a CISM certification holder can make $118,412 annually.
CRISC is an exclusive credential concentrated on enterprise IT risk management. The modernized CRISC exam content outline is based on the most advanced work methods and information to keep certification holders leading the game in catching real-world threats in today's business aspect. It is owned and administered by the ISACA.
A CRISC certification holder can earn you an average of $117,395 annually.
International Information Systems Security Certification (CISSP) is determined as an independent and top-grade certification in the Information Security area. It is certified by (ISC)2 International Information Systems Security Certification Consortium. The CISSP certification is valued by the UK National Recognition Information Centre as a Level 7 scholarship, the same level as a Master's degree.
According to the Bureau of Labor Statistics' employment of information security analysts is predicted to rise 33% from 2020 to 2030.
The approximate evaluation of the annual salary for a CISSP holder is $116,900.
Conclusion
Accelerate your IT career with above-mentioned certifications. Get enrolled with the Certification Planner to get the best training from professional trainers.
Reach out to us at support@certificationplanner.com or +1 8553221201 if you want to discover more about your training options. Happy Learning!