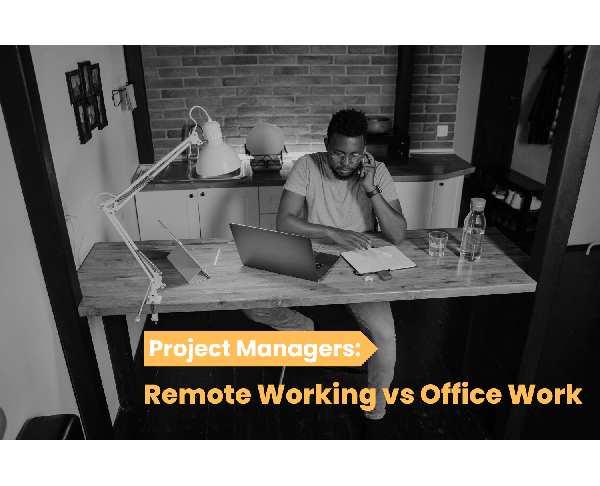 Project Managers: Remote Working vs. Office Work
In recent times, the global workforce has witnessed a transformative shift in the way people work. The rise of remote work has offered unprecedented flexibility and convenience, blurring the lines between traditional office-based employment and remote working arrangements. For project managers, this new reality presents a unique set of challenges and opportunities. This article delves into the debate of whether project managers are best suited for remote working or working from the office, highlighting examples and offering solutions to make the most of both scenarios. Additionally, we will explore the importance of PMP (Project Management Professional) certification in enhancing project management skills, regardless of the chosen work environment.
The Rise of Remote Working for Project Managers
Over the past decade, remote work has gained momentum due to advancements in technology, improved communication tools, and changing attitudes toward work-life balance. Many project managers have embraced remote work, and several aspects make this arrangement advantageous:
a. Global Collaboration: Remote working enables project managers to collaborate with team members and stakeholders from different geographical locations. It fosters diversity, encourages cross-cultural communication, and promotes a broader perspective on projects.
b. Flexibility: Working from home or remote locations allows project managers to create flexible schedules, balancing work and personal commitments more effectively. This flexibility can lead to increased job satisfaction and improved work-life balance.
c. Cost Savings: Remote work reduces commuting expenses and overhead costs for businesses, leading to potential savings that can be invested in other project aspects.
Example: A project manager based in the United States can effectively manage a team in India, collaborating on a software development project. By embracing remote work, this team can operate round the clock, ensuring faster project delivery and enhanced productivity.
Advantages of Office-Based Work for Project Managers
While remote work has its advantages, there are scenarios where the traditional office environment proves more suitable for project managers:
Real-time Collaboration: Face-to-face interactions in an office setting foster immediate feedback, promote team camaraderie, and facilitate quicker decision-making processes.
Security and Confidentiality: In certain industries, such as defense or finance, where sensitive data is involved, working from secure office premises helps maintain confidentiality.
Hierarchical Management: Some projects require a more structured and hierarchal management approach, where on-site supervision and coordination are essential.
Example: A project manager handling a construction project may find it more effective to work from the office, overseeing various aspects such as material procurement, site inspections, and safety measures, ensuring everything aligns with the project plan.
Combining Remote and Office Work - Hybrid Approach
Recognizing the strengths of both remote and office work, many organizations adopt a hybrid approach, allowing project managers to choose the most suitable environment for specific tasks. A hybrid approach offers the following benefits:
Task Allocation: Project managers can determine which tasks are best suited for remote work, such as planning and documentation while reserving on-site presence for tasks requiring direct oversight.
Employee Satisfaction: Providing the flexibility to work from home when needed can boost employee morale and lead to higher retention rates.
Increased Talent Pool: Embracing remote work opens up opportunities to hire the best talents globally, regardless of their location, thereby enriching the project team.
Example: A marketing project manager could work remotely while developing the campaign strategy, content creation, and social media planning. However, the manager could opt to work from the office for crucial in-person meetings with clients or team brainstorming sessions.
The Significance of PMP Certification in Both Scenarios
Regardless of the work environment, a PMP certification plays a pivotal role in a project manager's success:
Enhanced Skill Set: PMP certification equips project managers with comprehensive knowledge, tools, and best practices, enabling them to excel in their roles.
Credibility and Trust: PMP certification is globally recognized and signals to employers and stakeholders that the project manager possesses the necessary expertise to handle projects effectively.
Adaptability: PMP certification prepares project managers to adapt to various work environments, making them adept at managing remote teams and office-based projects.
Example: A project manager with a PMP certification can apply proven project management techniques to maintain team productivity, track progress, and resolve conflicts in both remote and office settings, ensuring project success.
Conclusion
In conclusion, project managers can thrive in both remote and office-based work environments, depending on the nature of the project, team dynamics, and industry requirements. Embracing a hybrid approach can provide the best of both worlds and enhance project outcomes. Nevertheless, regardless of the chosen work setting, PMP certification is crucial for project managers to stay competitive, demonstrate expertise, and successfully lead projects to fruition. As remote work evolves, project managers with the right skill set and adaptability will remain essential assets in the modern workforce.