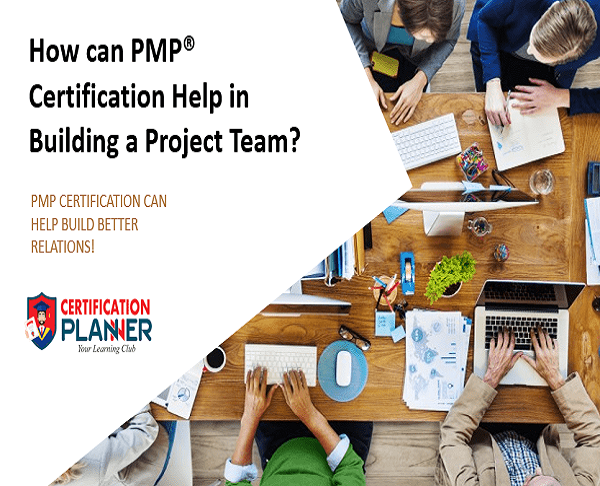 How can PMP® certification Help in Building a Project Team?
Managing a project is a challenge that is becoming more complex by the hours. With the involvement of professionals with different expertise, resources controlled by a different part of organizations, multi-level requirements, and even involvement of different cultural values, building a team becomes a huge problem. A problem that project managers must face even before the start of the project.
It won't be incorrect to say that , a certification governed by has emerged as one of the most sought-after certifications in project management spectrum. While the contribution of PMP® certification during the lifecycle of a project is huge and cannot be covered in one article, we will explore the contribution of PMP® certification in the very initial task of a project: Building a project team.
If we aim to understand how PMP® can help in building a project team and a healthy relationship in a team, we need to consider the factors that play a vital role in team building. For this article, we present the top 5 most important factors in building a team and how taking a PMP® certification can help in dealing with these factors:
1. Communication
Communication is easily a factor that can make or break a team. Communication plays a major role on multiple levels. Poor team communication can have problems like:
While communication skills can be developed over time, PMP® provides structured methods and tools to eradicate communication gaps. A few of the tools that Project managers can learn about during PMP® certification training are:
i. Power/Interest Grid
The Power/Interest grid works best while deciding the level of communication needed for stakeholders. 'Power' signifies the level of authority, and 'Interest' signifies the level of concern for stakeholders.
ii. RACI Chart
The RACI chart can be extensively used to promote healthy communication within a team. RACI stands for Responsible, Accountable, Consulted, and Informed. The chart works by making sure that at least one person oversees each category.
2. Common/Individual goals and Outcomes
Having a clear idea of the common and individual goals plays a major role in building a team. If the common goal is missing, the individual performances go astray, driven by the desire to perfect the immediate task. Project Management Professional certification again provides tools to project managers to set up proper milestones and divide tasks. A very simple tool that PM can learn about during certification is 'Milestone Chart'
A Milestone chart provides a logical order of division of tasks into sub-tasks where reaching M3 is possible only when M2 is completed. Once the milestones are divided, the impending tasks to reach the milestones can be decided and distributed.
While it is important to assign and task, it is equally important to analyze the outcome and identify the weak points of a team. During the PMP® training, professionals can learn about 'Earned Value Management (EVM)
EVM can be used by project managers to identify and access the schedule and cost performance of the project. EVM makes use of Planned Value (PV), Earned Value (EV) and Actual Cost (AC) to calculate Schedule Variance (SV), Schedule Performance Index (SPI), Cost Variance (CV), Cost Performance Index (CPI) to measure the performance of project with respect to schedule and cost.
3. Competency
Teams at a similar level of competency tend to have the best dynamics and produce the best results. While project managers can strive to improve the general quality of the team, he needs to establish himself as the alpha male as well. It has been long established through adult learning principles that adults tend to learn only from those whom they believe to be qualified. This is another area where PMP® certifications can help project managers. A salient feature of Project management Professional certification is that it establishes you as an expert in Project management by validating your experience. It is a global standard, and with Project Management Professional certification, you can give proof of your competency and help others grow as well.
4. Conflict resolution
Conflicts are omnipotent. It doesn't matter how good the planning is, conflicts are bound to happen. It is generally the responsibility of the Project Managers to resolve these conflicts. This is another area where project managers can pick-up multiple points during their PMP® certification. Project Managers can master various conflict resolution techniques during PMP® training. For this article, we will consider the 5 most basic conflict resolution techniques:
i. Withdrawal/Avoid: Retreating from a problem until a later date when the preparation is better.
ii. Smooth/Accommodate: Emphasizing areas of agreement, conceding one's position to need of others.
iii. Compromise/reconcile: Identifying solutions that bring some degree of satisfaction for both sides.
iv. Force/direct: Enforcing the power of position.
v. Collaborate/problem-solve: Incorporating viewpoints from both sides and brainstorming to find a solution that can lead to a win-win situation.
5. Emotional Intelligence
A major practice in the project management spectrum is the selection of 'Accidental Project Managers'. It is a rough term used to refer to a professional who has been made a Project Manager because of his or her technical skills but lack the soft skills necessary to successfully manage the team. These soft skills play a major role in building a team. While problems can be handled with technical skills, people can be managed only with soft skills. One of the most important soft skills is Emotional Intelligence or Emotional Quotient. is the capacity to be aware of, be able to control, and express one's emotions and the capacity to receive and understand other's emotions.
According to Travis Bradberry, a researcher in this field, 58% of our success ties of Emotional Intelligence. While you will not be receiving lessons on Emotional Intelligence, learnings through the PMP® certification training helps improve your emotional quotient or provide you action points derived from rich EQ. A couple of such examples can be witnessed in:
i. Scope Management: Very often, project managers give a green flag to project scope that has not exactly turned out as desired. PMP® puts an additional point, to identify such situations and revisit them later.
ii. Cost Management: Incorrect cost estimations can have disastrous results. EI gives you the ability to handle such situations. Do you not use the insights? Do you bring in a new estimator? Do you sit with the person and have a one-to-one conversation? PMP® certification can give a way out.
iii. Quality Management: Working with auditors can lead to difficult negotiations. EI can help you make a judicious decision or PMP® certification can.
Apart from this, PMI is about to include the people factor in the PMP®. With this latest advancement, PMP® will pay enhanced emphasis on factors related to people.
Interested in PMP®? We at Certification Planner can help you. We are committed to connecting professionals to the front of the class PMP® certification training with multiple running every week. Learn from instructors holding PMI credentials and share the knowledge and experience amassed over the years. Visit to explore more certification options or drop an email at . You can also connect to our certification experts at +1 8553221201. Happy Learning!