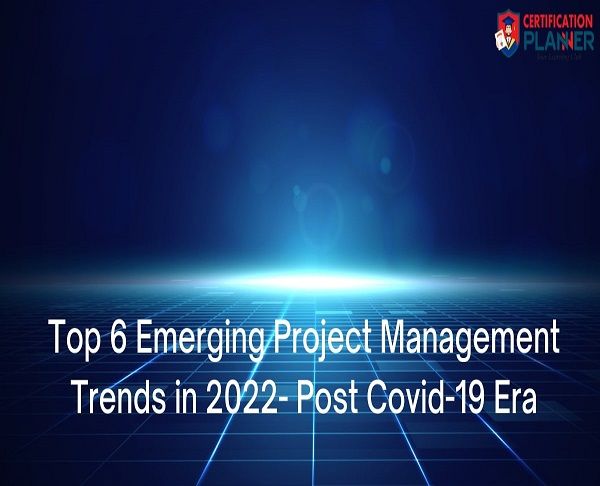 Top 6 Emerging Project Management Trends in 2022- Post COVID-19 Era
Project management is the proper utilization of knowledge, tools, techniques, and emerging trends in a project to get a productive outcome. Project Management succeeds to fulfill the whole process, with a changing work agenda due to the pandemic. Advanced technologies and globalization take responsibility in bringing the project management team together virtually and exchanging knowledge and skills required for a particular task.
Here is the list of the top 6 project management trends in 2022:
Remote Working and Virtual Teams
Cloud Storage and Application
Flexible Working hours
Data and Analytics
Widespread Agile
Demand for Soft Skills
1. Remote Working and Virtual Teams.
Companies have unlocked the power of Remote Work that grants employees to work from any place. Remote work has been in escalation mode for the past few years. Remote Working also includes cloud-based communication and cooperating tools to execute the task correctly and remain associated with an organization.
COVID-19 pandemic has built an era of virtual team building and forced the corporate sector to adopt a remote working pattern worldwide. This raised the demand for employees and the headman to stay in touch and manage their work from home.
According to the 15th state Agile report, 2021
25% of the respondents stated that they expect to remain remote and 56% of respondents will work partially remotely.
According to findstack.com,
The number of people who operate from home has increased by 159%. The swift elevation in technologies that allow people to perform their work from anywhere in the world is the main reason that encourages remote working.
Perks of Remote working
High productivity.
Fewer distractions
work-life balance
overcomes pollution
2. Cloud storage and Application
Cloud Storage is an important technology that is practiced worldwide. Due to COVID-19 computer systems have been strongly moving away from restricted storage to server-based and remote which is also known as Cloud.
According to Cloudwards,
In 2021 and beyond, the cloud data centers will be processing 94% of all workloads, and the SAAS process will estimate 75% of the total workload.
Also, Public Cloud Service Spending is supposed to grow rapidly in the future. The combined end-user spending on cloud service in 2020, was calculated around $270 billion. In 2021 this is estimated at 23.1% to a huge $332.3 billion. By 2022, prediction shows that the number will increase to $397.5 billion.
The global cloud storage was worth about #30 billion in 2017, and it firmly rose to $61 billion in 2020. It is predicted that the market will grow to $76 billion this year and with a CAGR of 26.2% in the period from 2021 to 2028. It will expand by more than $390 billion by 2028.
3. Flexible working hours.
The work system defines where, when, and how work has to be done. Flexibility in working hours is an assuring alternative to the conventional work style.
According to SHRM, 55% of employees cited work-life balance and flexible working hours as very important aspects of their job satisfaction.
Perks of flexible working hours:
Increase in productivity
Job Satisfaction
Retention
Wider choice of Expertise.
Better Mental Health
According to Kenexa High-Performance Institute
68% of inflexible workers reported having an extreme level of stress, which further affects mental health.
FlexJobs found that 97% of people say that work flexibility plays an important role, to have a positive impact on quality of life.
4. Data and Analytics
Data Analytics plays a significant role in improvising the project outcomes of any organization. Analytics gives a clear picture of costs, budgets, and timelines. Managers can use a burn-down chart and many analytical reports in tracking the project outcome.
Analytics assists organizations to have a comprehensive view of complex projects and consolidating unrelated data streams to offer intense insight into predictions.
By the year 2025, we can witness over 100 zettabytes of data stored in the cloud. The panoramic view of a Zettabyte will be around a billion terabytes or a trillion gigabytes. Globally the data storage will surpass 200 zettabytes of data, which means half of the storage will be in the cloud.
5. Widespread Agile
Agile is an algorithmic and incremental method to develop software gradually, taking periodic revaluation whenever required instead of presenting the complete product after completion.
According to the 15th state of Agile report, 2021
94% of the respondents stated that their company is practicing agile and 64% of the respondents state their company has significant experience with agile.
6. Demand for Soft Skills
Soft skills are interpersonal behavior skills that enable you to work well with one another and complete your job successfully. Soft skills are considered as a counterpart to hard skills in an organization.
Empathy has always been a fundamental skill for leaders, but it is heading on another level of purpose and priority. Everyone goes through tough times and trains, but finding a way to be happy at work is possible only through empathy. A research of 889 employees by CATALYST has perceived information regarding empathy. It has some productive effects on and off the business field.
Innovation- 61% of employees reported that their leaders were empathetic, which helped them to be more innovative in their work.
Engagement- 76%of workers stated that with the guidance of their empathetic leaders they could engage themselves in business affairs.
Inclusive- 50%of workers reported that their workplace was inclusive with their empathetic leaders.
Work-life- 86%of employees working under empathetic leaders reported that it was easy to manage both work and personal life easily