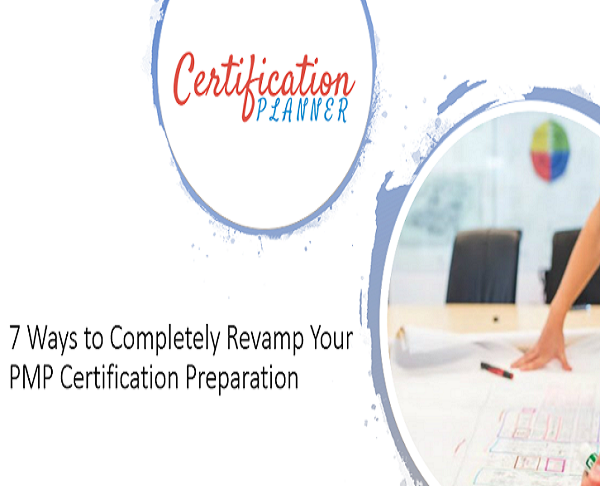 7 Ways to Completely Revamp Your PMP Certification Preparation
PMP certification is the gold standard certification in the project management spectrum. With over 833,025 certified PMP professionals in the world, it is both highly demanded and highly rewarding. From higher growth prospects to higher pay structure, PMP certification has evolved as a metonym of career boost in every aspect. While it is easy to achieve certifications, the same cannot be said for PMP certification. Standard prerequisites, in-depth domain knowledge, and high-end examination, all add up to make PMP a difficult but the Philosopher's stone in the project management spectrum.
Owing to the high failure rate of 40% to 50% for the first attempt, it is essential that you do not leave any stone unturned when it comes to PMP certification exam preparation. In this article, we will discuss 7 ways to completely Revamp your PMP Certification.
1. Identify your Learning Style:
Introspection is always the first step to success. Are you a visual, auditory, or tactile learner? Do you learn best in groups or individually? Knowing your learning style is important to understanding how to approach your studies for the PMP exam and this is where you need to start. This will greatly help in finding high utility learning tools for your preparation.
2. Review the PMP Examination Content Outline:
Now that you have identified your learning style, it is time to analyze the examination at hand and PMP Examination Content Outline is the best tool for it. It is the most trusted source issued by the PMI and details about:
The breakup of questions as per the Process area.
List of tasks, skills, and knowledge required as per PMI's Role Delineation Study. This provides an insight into what all is covered as part of the examination.
This step will also assist you in the giving structure to the next step!
3. Enroll in a formal study course:
There are numerous training providers who provide a formal PMP certification training course. There are numerous reasons why you should enroll in such courses. These training programs provide tailor-made PMP study materials and can introduce you to best practices for PMP exam preparation. They assist you in understanding various project management concepts, terminologies, formulas and other key elements necessary to get ready for PMP examination. Assistance from an experienced trainer can be helpful in the learning process as well.
4. Prepare a Study plan and set targets through the course plan:
When you are aiming to ace project management, it is but natural to treat the task of achieving PMP certification as a project. Like every project, setting an initial plan and targets are of utmost importance. Break your study duration into smaller chunks and decide on the duration you are going to dedicate to every action like going through the PMBOK. Also, assign specific targets and make sure you achieve the targets. Structures learning always manifests in best results.
5. Review the latest Edition of PMBOK:
Almost all the PMP courses are built around PMBOK and while the additional course material is useful, PMBOK can provide detailed information.
6. Take up Sample Mock test:
Mock tests are one of the best tools to gauge your progress. Mock tests not only act as a touchstone to your preparations but also acquaint you with the actual test pattern, type of question and set the correct temperament. However, it is essential to acquire Mock tests from a trusted source.
7. Form a study group:
Keeping the company of the people with the correct temperament not only promotes peer learning but will also keep you motivated. Often, peer discussion leads to more learning than individual preparations. However, this is highly dependent on your learning habits. While most do, not everyone learns best in a group.
If you are qualified to take PMP certification, you would already have decent experience in Project Management. Try to relate new learning to old experiences. This will not only solidify your knowledge base but will also give an insight into the practical application of the concepts and principles learned.
What do we have to offer?
There are several training facilitators in the market who can assist you with the PMP certification course. We, Certification Planner, are a leading training provider and are committed to connecting you with the best training solutions available. With our courseware being developed by Certified PMP instructors, we provide the best-in-class quality. Also get access to complimentary E-learning material, E-Book, A Guide to the Project Management Body of Knowledge (PMBOK® Guide - 6th Edition), Chapter end quizzes and much more.
If you want to know more, contact us at support@certificationplanner.com or visit us at www.certificationplanner.com. You can also call us at +1 4084185586. Happy learning!