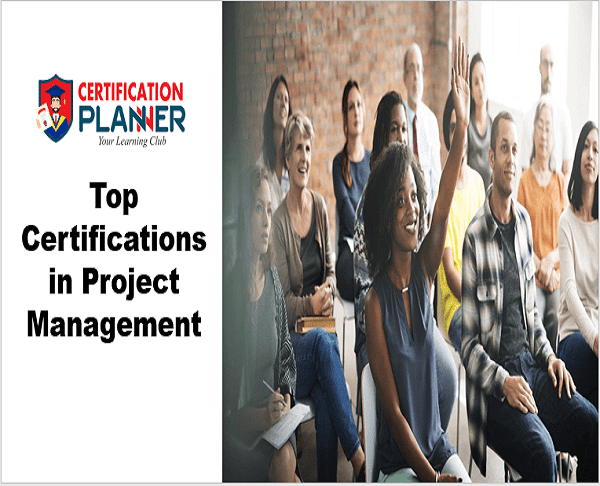 Top Certifications in Project Management
Have you ever wondered which Project Management certification course would be more appropriate for your career? In the current business environment, organizations rely on project managers to take up projects to increase productivity, reduce cost, eliminate waste, manage resources, and so on.
We bring you the top 10 Project Management certification in 2020. Make sure you select the right one for your career.
Project Management Professional (PMP)
PMP is the most popular and sought-after certification in the Project Management spectrum. It is an industry-recognized and globally accepted certification. The project manager demonstrates and understands the global language of Project Management functions and principles. Governed by the PMI, PMP is one of the toughest certifications.
Certified Associate in Project Management (CAPM)
As compared to the PMP certification, CAPM certification is for those who have lesser experience in the project management field. It's an entry-level certification and is less demanding than PMP certification. CAPM certification is awarded by the governing body, PMI.
The Lean Six Sigma Green Belt is a globally recognized certification. Lean Six Sigma Green Belt is for those who want to be an expert in the quality management spectrum. Lean Six Sigma Green Belt certification will prepare you on how to use DMAIC methodologies and tools.
Black belts have a thorough understanding of all aspects of the define, measure, analyze, improve, and control (DMAIC) model following Six Sigma principles. They have basic knowledge of lean enterprise concepts and can identify non-value-added elements and activities and use specific tools.
The ITIL4 is launched in 2019. The Foundation level is designed as an introduction to ITIL 4 and enables candidates to look at IT service management through a BRAND NEW end-to-end operating model for the creation, delivery, and continual improvement of tech-enabled products and services. The certification is open for all professionals working in the IT service management field.
Certified Business Analysis Professional (CBAP)
The International Institute of Business Analysis (IIBA) is the governing body and grants the certification of CBAP. This certification is ideal for individuals with experience in business analysis. This certification is also recommended to Product Managers, Hybrid Business Analysts, Project Managers, Designers, Change Managers, and Quality assurance professionals.
Professional in Business Analysis (PMI-PBA)
Due to the volatile business environment, most organizations require experts in business analysis. Companies are vying for certified Business Analysts who have the skills and expertise to identify risks, opportunities, and create solutions.
This certification is for managers who can handle multiple projects.
As a PgMP certified program manager, you're a senior-level practitioner at the forefront of advancing your organization's strategic goals. You manage multiple, related projects in a coordinated way, achieving benefits that could not occur if the projects were handled separately. This certification gives you an edge over others since you will have the knowledge and expertise in the field.
Among all the various Scrum master certifications, Certified ScrumMaster is valuable and is the best. It is provided by the governing body Scrum Alliance, and it encourages the use of Scrum practice around the world. Scrum Management involves managing software delivery consistently with more effectiveness, agility, and increased frequency. There are no prerequisites for enrolling for Certified ScrumMaster certification.
Projects in Controlled Environment (Prince 2) - Foundation and Practitioner
Though this certification is popular in the UK, it is a globally renowned certification. If you live in the UK, this certification holds more value than some of the project management certifications. As the name suggests, Prince 2 foundation is an entry-level certification, and Prince 2 Practitioner is an advanced level certification.
There are no prerequisites to enroll for the Prince 2 Foundation course. To enroll for Prince 2 practitioner course, you have to complete the Prince 2 Foundation. However, you can club both the courses and complete them in one certification program with the Certification Planner. You can save your time and money by clubbing both the courses.
The demand for project managers is increasing in every industry. Recruiters would look for experiences and certified professionals while hiring. Now that we have more clarity on the top 10 certifications, it would be easier for you to make a choice.
Certification Planner is a leading e-learning platform that provides professional training and certification for all the above courses in North America, Australia, and Singapore. Visit us at www.certificationplanner.com or email us at support@certificationplanner.com or call us at 855.322.1201 to choose the certification that best answers your needs.