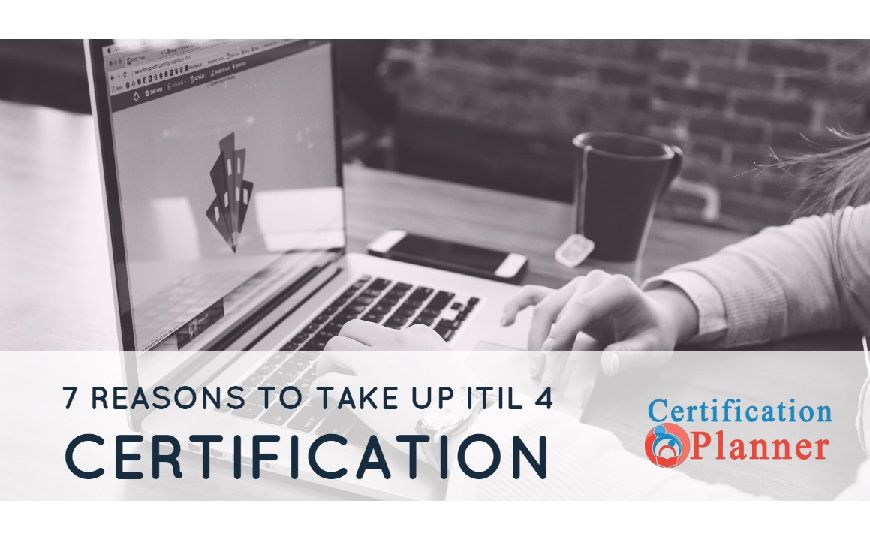 7 Reasons to take up ITIL 4 Certification
ITIL is essentially a set of IT service management practices that assist in aligning IT to business goals. It has also been marked under one of the most rewarding IT certifications both in terms of enhanced skillsets and monetary benefits. With a governing body behind the certifications and various upgrades over the years, ITIL has not just managed to stay relevant in the market but has proved to be instrumental in IT service management. With the launch of new ITIL 4, ITIL has gone a step forward in creating best practices by including methodologies from various other frameworks. Apart from this, there are multiple other benefits of ITIL.
Better Skills:
With ITIL you gradually improve at using IT as an aiding tool and stay relevant in the ever-changing market scenario and IT needs.
ITIL 4 Foundation: ITIL 4 Foundation is an entry-level certification and offers a general awareness of key elements and concepts in ITIL and IT service management. The certification level aims at introducing candidates to modern IT-enabled service management.
ITIL Managing Professional: Incepted under the new ITIL 4 structure, ITIL Managing Professional provides practical and technical knowledge about how to run successful IT projects, teams and workflows.
ITIL Strategic Leader: The second functional area in the new ITIL 4 structure, ITIL SL intends on giving a clear picture of how IT influences and directs business.
Improved Salary:
While the compensation provided to you will depend on numerous factors ranging from experience, geographical region to the size of the organization you are working for, there is a general difference of 15% to 18% is observed between the salary of a certified professional and a non-certified professional with professionals with higher salary get the upper hand.
A survey done by payscale.com puts ITIL certification in the top-earning bracket in the US, with the range of salary between $80,000 to $130,000.
Improved Service Quotient:
Since ITIL aims at aligning IT with business goals, it helps organizations deliver better customer service. Also, the six key activities of the Service Value Chain (Plan, Improve, Engage, Design & Transition, Obtain and Build, and Deliver) introduced in ITIL 4, provide more flexibility and ability to tackle more problems to the IT solutions.
Enhanced Global Footprint:
With the ITIL 4 supplemented skillset, you will stay relevant to a lot of organizations, even beyond your country. Almost all the organizations across the globe use ITIL is some form or the other adding to the opportunities. With this, you make a tremendous improvement in your global footprint.
Robust process:
ITIL practices help a lot in developing robust processes, not just for big organizations but for the small enterprises as well. Multiple organizations like Walt Disney, IBM British Airways have successfully developed and deployed robust processes using ITIL.
Become the Maverick:
A credible certification under your belt separates you from the rest. Certifications act as indications in the view of employers that you are ready to take the extra step to learn and deliver. It also endorses your knowledge and skillset, something that recruiters are always on a lookout for.
Gain extensive knowledge and Skillset:
Last but one of the major advantages of becoming ITIL 4 certified is that you get to learn the best industry practices. While you can acquire these skills with experience, the problem with learning through experience comes with a considerable expense of time and lack of proper structure. With ITIL certification, you get the chance to acquire the knowledge much quickly and in a structured way.
The new ITIL 4, intends to take IT service management learning a step forward. The new ITIL 4 also includes methodologies, tools, and practices from various other widely used frameworks. With so much to gain, ITIL is slowly transforming into a qualifying criterion rather than being good to have a toolkit.
Certification Planner, LLC is one of the leading training faciliatory and providers. With its new course on ITIL 4 Foundation certification, aligned with the industry standard and developed by certified and experienced instructors, you get prime learning experience along with honing your skills. Visit our website www.certificationplanner.com or drop an email to support@certificationplanner.com to know more. You can also speak to our certification expert at +1 4084185586. Happy learning!