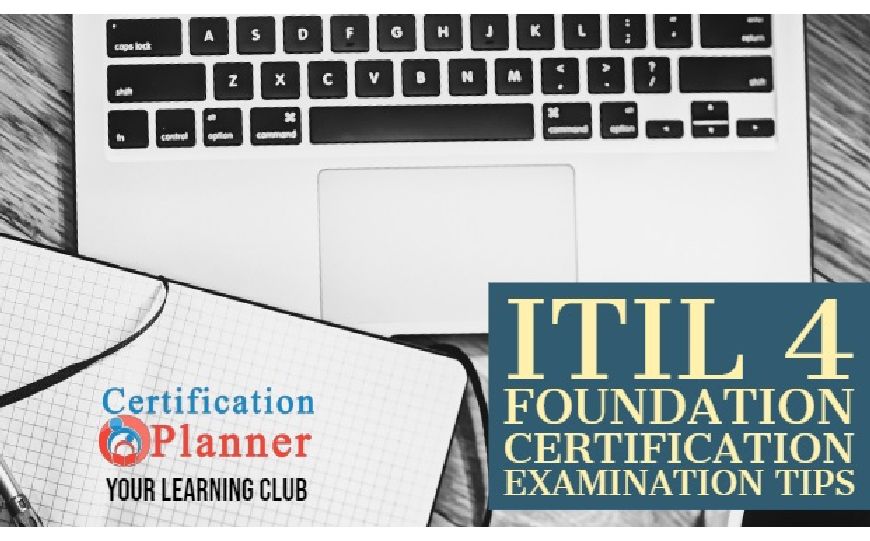 ITIL 4 Foundation Certification Examination Tips
High-end training courses are becoming the next talk-of-the-town. This is a direct result of increasing competition and diversification of the market. With the existing rush to jump-up the success ladder, the Certification examination assures that a person has the desired knowledge before he or she can be proclaimed to be capable of passing examinations. While certain certification examinations are individually monitored by various certification training providers, ITIL is governed by AXELOS to maintain the standard. In this article, we will discuss a few tips that will help you in clearing the ITIL 4 Foundation certification examination.
Before taking up the examination
Read before you start: It is always a good idea to do your homework before you take up any certification. Try to identify if the certification meets your objective. In the further steps, read about the exam patterns, types of questions that are asked and experience of other professionals who have taken up the examination. This will help you understand the patterns and the type of questions that you would be facing.
Ask questions: There is nothing as 'not-important" in ITIL. With almost everything related in ITIL, missing out on one topic can hamper the complete learning experience. Make sure you ask as many questions as you need to understand the topic.
Make lots of note: it is a good idea to note down something that you find difficult. Notes give you the opportunity to revisit and relearn.
Real life questions: While most of the training provider includes real-world case studies, it is always good to ask how ITIL 4 relates to your work experience. The questions asked in examinations testes your knowledge of ITIL It is possible to miss out on small nuances that might be created during real-life implementations. While ITIL treats the five Life-cycle stages as distinct units, they often overlap in real-life implementations.
Take up mock examinations: Mock examinations help you get acquainted with patterns, types of questions and helps in evaluating your preparation. Work through the answers that you got incorrect until you understand.
While taking up the examination
It is not unheard-of people panicking during the examination even after decent preparations. While it is natural to be exited and have jitters just before or during examinations, a couple of steps can be reassuring.
Allow yourself enough time before examination: It is always a bad idea to start an examination in haste. Make sure you have everything you need for the examination. Take time to fill in all the required information before commencing the examination.
Do not Panic: With almost 60 questions and 40 questions to answer, you almost have one and a half minutes to answer each question. However, keep an eye on the clock to avoid spending too much time on a single question. If you do not know the answer to any question, skip it. You will come across a couple of straight forward questions. Avoid overthinking but make sure you read the question completely.
Eliminate options: Elimination of options is an age-old strategy while taking up any examinations. Elimination of options that you know are incorrect for certain makes it easier for the correct answer to jump out to you. Pay attention to keywords like not, could, must, incorrect, best as they will indicate towards the correct answer.
Answer a question from ITIL perspective rather than your personal perspective: You might have some differences with the standard ITIL practices based on your experience. Answer the questions from the ITIL perspective rather than your personal perspective.
Revise at the end: It is always a good idea to go through your answers at the end.
Post-examination endeavors
You have given the examination; the task is almost done. Contrary to the general belief, giving examination is not the end. There is a lot of things that you could do.
Don't fret over the result: Do not be anxious about the result. You will get the results within two business days and a hard copy of the certificate within one to two weeks. Meanwhile, you can read more about ITIL, success stories and new developments in the spectrum.
Give your training provider constructive feedback: It is always nice to share with your training provider what you liked about the course or areas in which they can improve.
Post-certification endeavors: There are a lot of things that you can do post-certification that can add value to your knowledge. You can compare your experience with that of your friends. Discuss real-life applications of ITIL 4 practices. Encourage other staff members who can benefit from the certification to take it up.
Attend conferences: Conferences and seminars are good methods to keep up with the latest industry trends and developments in IT service management.
ITIL 4 Foundation is a good start towards becoming an ITIL Expert. With dedicated training, you get the change to validate your knowledge as well as acquire new skills. The updated ITIL 4 holds great prospects for learning.
Certification Planner is a global training provider with an aim to connect professionals to suitable training solutions. Our ITIL 4 Foundation training course is designed for professionals just like you. Also, get access to our complimentary learning materials, chapter-end quizzes and much more.
Interested? Contact us at Support@certificationplanner.com, pay us a visit us at www.certificationplanner.com or call us at +1 8553221201 to know more.