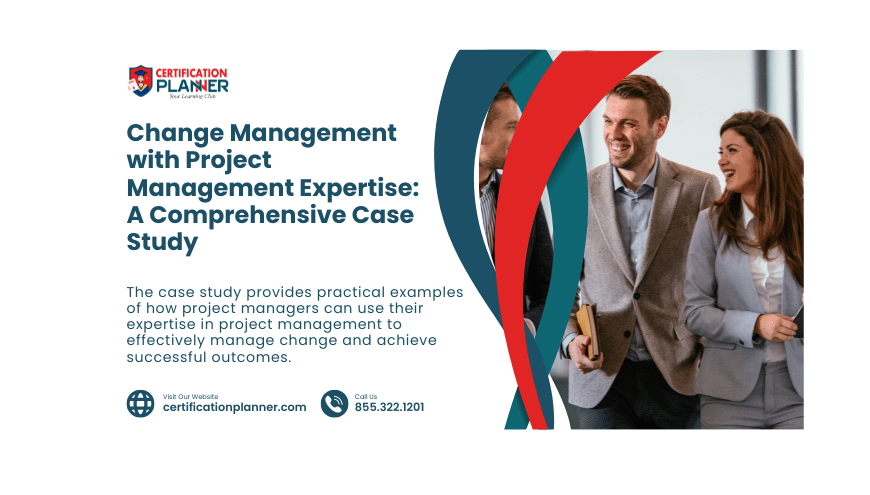 Change Management with Project Management Expertise: A Comprehensive Case Study
In today's rapidly evolving business landscape, organizations must embrace change to stay competitive and innovative. However, implementing change is not without its challenges. Effective change management, guided by Project Management Professional (PMP) skills, is essential to ensure that organizational transitions are successful and sustainable. This comprehensive case study will explore how PMP skills can be applied in real-world change management scenarios. Through insightful conversations, practical examples, innovative solutions, and a step-by-step implementation strategy, we will illustrate how PMP skills can drive change management excellence.
Case Study: Streamlining Processes at ABC Healthcare
Background:
ABC Healthcare is a prominent healthcare provider facing growing demands for improved patient care and operational efficiency. To address these challenges, the organization has decided to implement a new Electronic Health Records (EHR) system, transitioning from traditional paper-based documentation. The change is expected to enhance patient outcomes, reduce administrative burden, and promote data-driven decision-making.
Project Managers:
1. Emily (PMP Certified): Emily is an accomplished project manager with a proven track record of delivering complex projects on time and within budget. She is tasked with overseeing the implementation of the EHR system and ensuring seamless change management.
2. David (Change Management Specialist): David is a seasoned change management specialist, collaborating closely with Emily to facilitate the organization-wide adoption of the new EHR system.
Conversations:
1. Identifying Stakeholders' Concerns:
Emily: David, some departments are showing resistance to the new EHR system. How can we address their concerns effectively?
David: Emily, let's leverage PMP's stakeholder management skills. We'll conduct a thorough stakeholder analysis to identify each group's concerns and expectations. By categorizing stakeholders based on their influence and impact, we can tailor our change management strategies to address their unique needs.
2. Communication and Training Strategy:
Emily: Our staff needs comprehensive training on the new EHR system. How can we ensure a smooth knowledge transition?
David: We can apply PMP's communication and training planning skills. Let's create a detailed training plan that outlines different training methods, schedules, and resources. Regular communication through workshops, webinars, and informative materials will keep everyone informed and engaged throughout the transition.
Examples:
1. Stakeholder Involvement:
Emily and David involve representatives from various departments in project planning meetings. By applying stakeholder engagement techniques, they gain insights into department-specific concerns, address these issues early on, and foster a sense of ownership among stakeholders.
2. Risk Management:
During the implementation phase, unforeseen technical challenges emerge, causing delays in the project timeline. Emily and David use a risk management approach by identifying potential risks, assessing their impact on the project schedule, and collaborating to develop risk mitigation strategies. This proactive approach minimizes disruptions and ensures project continuity.
Solutions:
1. Change Champions:
Emily and David identify enthusiastic change champions from each department who receive specialized training on the new EHR system. These champions serve as advocates, helping their colleagues navigate the changes, answering questions, and providing hands-on support.
2. Feedback Mechanisms:
To address emerging challenges and gather employee insights, Emily and David established regular feedback mechanisms, including anonymous surveys and focus groups. This data-driven approach enables them to fine-tune the change management strategies and adapt them to evolving needs.
Implementation Strategy:
1. Project Initiation:
Define project scope, objectives, and key stakeholders.
Develop a change management plan that aligns with project goals.
2. Stakeholder Engagement:
Identify and analyze stakeholders' interests, concerns, and influence levels.
Develop tailored communication plans to address stakeholders' needs effectively.
3. Change Management Team:
Assemble a cross-functional team comprising project managers, change management specialists, subject matter experts, and change champions.
4. Communication and Training:
Develop a comprehensive training program that includes multiple learning methods.
Establish clear communication channels for updates, progress reports, and Q&A sessions.
5. Change Champions:
Select and train change champions to support and guide their respective departments.
Equip change champions with resources and knowledge to address employee concerns.
6. Feedback and Adaptation:
Implement regular feedback loops through surveys, focus groups, and one-on-one discussions.
Use feedback to refine change management strategies, address challenges, and improve the overall implementation process.
7. Risk Management:
Identify potential risks related to technology, employee resistance, and process disruptions.
Develop proactive risk mitigation strategies to minimize negative impacts on the project.
8. Monitoring and Evaluation:
Continuously monitor project progress, adoption rates, and employee satisfaction.
Regularly evaluate the effectiveness of change management strategies and make necessary adjustments.
Conclusion:
The ABC Healthcare case study illustrates how the application of PMP skills in change management can lead to successful and sustainable organizational transitions. Through stakeholder engagement, effective communication, training strategies, risk management, and continuous feedback, Emily and David navigated the complexities of implementing a new EHR system. By integrating PMP principles into change management practices, organizations can enhance their ability to manage change effectively, minimize resistance, and achieve long-term success in the face of evolving business landscapes.