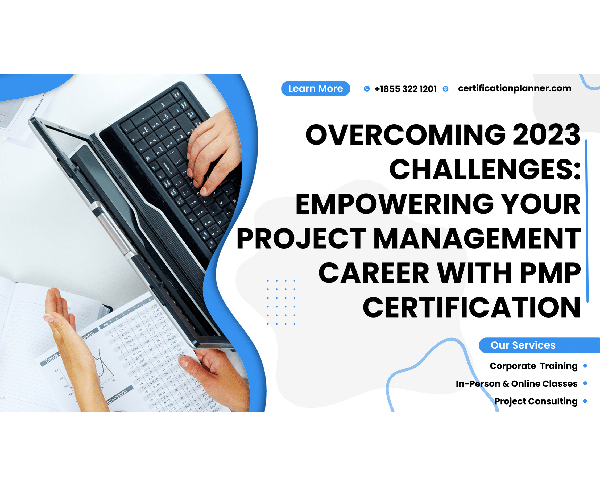 Overcoming 2023 Challenges: Empowering Your Project Management Career with PMP Certification
Introduction:
As we step into 2023, the project management landscape is brimming with unprecedented challenges. The need for highly skilled professionals who can navigate complex projects and drive success has never been more vital. In this dynamic environment, the Project Management Professional (PMP) certification emerges as a beacon of excellence, empowering project managers to overcome obstacles and thrive. Let's explore the significance of PMP certification, delve into the exam process, discover effective tips to pass the exam, address 2023 challenges, and finally, uncover the path to becoming PMP certified.
The Power of PMP Certification:

The PMP certification, bestowed by the Project Management Institute (PMI), is a testament to your expertise, knowledge, and proficiency in project management. It elevates your career trajectory, opening doors to global opportunities and increasing your earning potential. PMP-certified professionals possess the acumen to lead projects effectively, ensuring successful outcomes, stakeholder satisfaction, and organizational growth.
PMP Examination Process:

The PMP certification exam is designed to assess your mastery across five domains: initiating, planning, executing, monitoring, and controlling, and closing. These domains encompass a range of project management topics, from developing project charters to managing risks and stakeholders. The exam consists of 200 multiple-choice questions, which gauge your ability to apply project management concepts and methodologies to real-world scenarios. Embracing the challenge of the exam enables you to showcase your critical thinking, decision-making, and problem-solving skills.
Tips to Pass the PMP Exam in 2023:
Understand the Exam Content: Begin by familiarizing yourself with the PMP Examination Content Outline provided by PMI. This outline serves as your roadmap, highlighting the critical knowledge areas and tasks that may appear on the exam. Immerse yourself in each domain, comprehending the underlying concepts and their practical applications.
Embrace Agile Methodologies: In response to the evolving project management landscape, the PMP exam now includes agile methodologies and approaches. It is essential to understand agile principles, frameworks, and tools, as they play a significant role in contemporary project management. Explore resources that cover agile methodologies, such as the Agile Practice Guide published by PMI, to expand your knowledge.
Leverage Study Materials: Invest in comprehensive study materials that align with the latest PMP exam content. Utilize reputable PMP exam prep books, online courses, and practice exams to reinforce your understanding of project management concepts. PMI's official resource, the Project Management Body of Knowledge (PMBOK® Guide), remains a valuable study companion.
Create a Study Plan: Develop a structured study plan tailored to your schedule and learning style. Break down the exam domains into manageable sections, allocate dedicated study time, and set realistic milestones. Consistency and regular practice will enhance your grasp of project management principles.
Engage in Interactive Learning: Collaborate with fellow PMP aspirants through study groups, online forums, or virtual communities. Engaging in interactive discussions, sharing experiences, and exchanging ideas can enrich your learning journey. These interactions provide valuable insights and perspectives, fostering a collaborative approach to project management challenges.
2023 Challenges and PMP Certification:

The year 2023 presents project management professionals with unique challenges. Rapid technological advancements, shifting market dynamics, and increased complexity demand adaptable and skilled leaders. By obtaining the PMP certification, you equip yourself with a robust framework to tackle these challenges head-on. The PMP certification validates your ability to adapt to changing circumstances, implement effective strategies, and lead teams to success, ensuring you remain competitive in the ever-evolving project management landscape.
How to Get PMP Certified with Certification Planner:

Certification Planner offers a comprehensive PMP exam preparation training program that caters to diverse learning styles. Their expert instructors guide you through the exam content, providing valuable insights and practical tips. You can choose from a range of flexible training options, including live virtual classes and self-paced e-learning, allowing you to learn at your own pace and convenience.
Certification Planner's training program combines interactive learning modules, real-world case studies, and practice exams to solidify your knowledge and enhance your exam readiness. Their experienced instructors and supportive learning environment empower you to tackle the PMP exam with confidence, maximizing your chances of success.
Conclusion:
As we navigate the challenges of 2023, the PMP certification emerges as a transformative force, empowering project managers to thrive in an ever-changing environment. By pursuing PMP certification, you position yourself as a capable leader with the skills, knowledge, and expertise to overcome challenges and drive project success. Leverage effective study strategies, embrace agile methodologies, and explore reputable training programs like Certification Planner's PMP exam preparation training to embark on your journey toward PMP certification. Unleash your potential, embrace the power of PMP certification, and embark on a fulfilling career path as a distinguished project management professional.