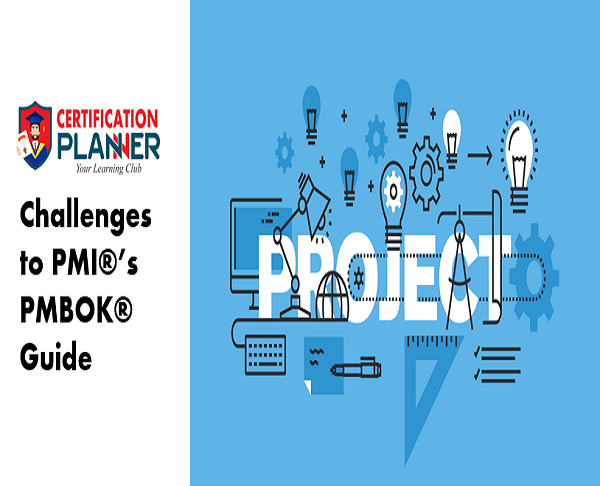 Challenges to PMI's PMBOK® Guide
Companies have been paying attention to operation optimization for ages. However, the paradigm has shifted, and companies are also investing in optimizing projects. One major organization that is working towards bringing progress in project management is the . PMI® has been continuously striving through research, certifications, training, and collaboration with industry experts to identify areas of improvement in Project management and to induct and train professionals in these areas. Today, PMI® is easily considered to be the largest and most prominent organization when it comes to developments in Project management and it delivers its findings and advancements through PMBOK® Guide and various certifications.
While PMI®'s credibility is unmatched, it has faced a couple of challenges based on its approach to project management. In this article, we will focus on the three major areas where the PMI® 's approach has been challenges and the solution that has been presented by PMI®.
Are PMBOK® Guide and PMP® relevant to all Project types?
Project Management Institute provides Process Groups and Knowledge areas in PMBOK® Guide and the common understanding goes that anyone who fulfills the criteria for PMP® certification exam, who is well versed in PMBOK® Guide and who has cleared PMP® certification examination can handle and lead any project. This is where PMI® faces the first challenge.
Projects can be varied in nature. A project can be strategic, technical or even operational. Will the same strategy apply for all the projects? Do the expertise of a Project Manager handling an IT project needs to be the same as the expertise of a project manager assigned with the task of managing a construction project?
The answer is 'No'. What PMI® provides through PMBOK® Guide are standards and not stepwise process. For both the project types, project managers will find the use of PMBOK®. However, not all process groups and knowledge areas will be useful in both the projects. It is the responsibility of the project managers to pick and choose what would be relevant for the type of project they are working on.
In order to address the same question, PMI® had included the 'Tailoring' section in the latest version of PMBOK®. This section provides information on the tailoring consideration for each knowledge area. With this move, PMI® has made it clear that for the best results, there can be a need to adjust the methodologies specified in PMBOK® Guide V6.
Can all Project Managers handle all types of projects?
Another major understanding based on which PMI® has been challenged is that anyone who fulfills the criteria for PMP® exam, who is well versed in PMBOK® and who has cleared the PMP® exam can handle all types of projects. This obviously is not the case. In order to address this point, we will have to pay attention to one of the most popular segregation of Leadership types.
Transactional leaders:
Transactional leadership is based on the concept of leading through supervision, organization, and performance. In this type, leaders promote compliance through reward and punishment. Transactional leadership is effective in factories, oil, and gas industry.
Transformational leaders:
Transformational leadership is a more involved approach where a leader works with the team to identify if there is a need for change and ways to resolve it. This type of leadership is most effective in the IT and research industry.
Each industry has its own requirements and projects can be successful only if it is led by the correct form of leader. A transactional leader might not be successful in delivering a successful project in the IT sector. It is the mindset that comes into play. Several researchers have been made to map the project manager's personality type to the type of project for successful project delivery.
Is PMBOK® Guide relevant to all types of projects?
Another major challenge came in the face for the nature of the project for which PMI®'s PMBOK® Guide will be effective. Initially, PMI® had PMP® certification which was most relevant to Predictive projects: a project type in which the phases, deliverables, risks, etc. were predefined. PMI® also had PMI®-ACP certification which was more suited for Adoptive Projects: a project in which the phases, deliverables, risk, etc. might not be clear initially. However, after the latest update in PMBOK® Guide that came in 2017, PMI® has included elements in PMP® certification that will be helpful for Adoptive and Hybrid projects.
PMI® has also announced the change in the PMP® certification exam outline, where the new exam will also focus on the business and people aspect of a project.
While PMI® has delivered good measures, it is important for project managers to take up PMI® associated certifications to understand the scope, extent, and implementation of tools and knowledge areas specified in PMBOK®. If you are planning to take any of the PMI® associated projects in the project management spectrum, we at Certification Planner can assist you. We run multiple training sessions for , , and training for . Visit us at to discover the training solutions. If you need any assistance, you can also connect to our Certification Champs at or get on a quick call with them at +1 8553221201. We are committed to connecting you to prime training solutions. Take charge of your career with a Certification Planner. Happy Learning!