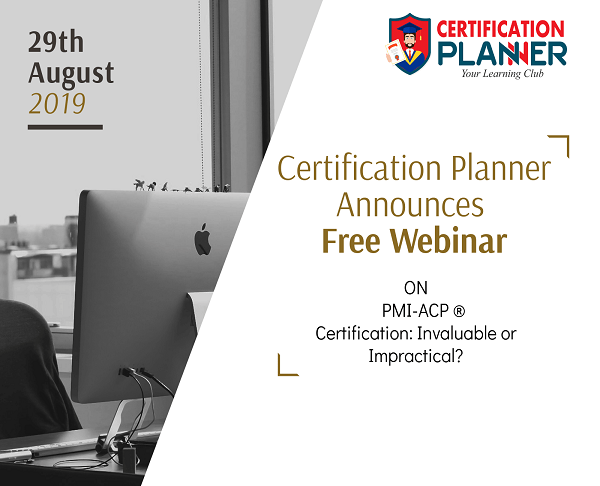 CP complimentary webinar on "PMI-ACP certification: Invaluable or Impractical"
Complimentary webinar series for professionals by Certification Planner, LLC.
Certification Planner is a global training facilitator and is committed to connecting professionals with the latest advancements in various functional areas like project management, quality management, IT service management, etc. and the corresponding certifications in these areas.
In the latest advancement, CP has announced a complimentary series of Webinars, where candidates will get to explore salient points from various functional areas and useful knowledge base outside the scope of certifications. The first webinar of the series is scheduled on 29th August 2019 at 10:30 am and is dedicated to the role of Agile and PMI-ACP certification in project management.
About the Trainer:
The Webinar will be hosted by Mr. Jeremy Kennedy. Mr. Kennedy is a CAPM, PMP, PMI-ACP, and SAFe certification credential holder with over 20 years of professional experience. Over the years, Mr. Kenned has helped 500+ professionals shape their careers. Mr. Kennedy specializes in training professionals in project management and Agile methodologies.
Details of the Webinar:
Topic: "PMI-ACP Certification: Invaluable or Impractical?"
Date: 29th August 2019
Time: 10:30 AM
Duration: 45 minutes
Objective:
The objective of the series is to bridge the gap between the knowledge extent and the functional requirement faced by professionals and to share the experience and knowledge, not covered in any of the certifications and amassed by industry experts through working in the domain.
Agenda:
The webinar will detail the role of Agile in the Project management spectrum and discuss the advantages, disadvantages, and role of PMI-ACP certification. The first webinar of the series will be useful for any certified or non-certified professionals working in the project management spectrum. The webinar will also elaborate on the changing scenario in the project management domain and the agile methodologies.
CP Welcomes you to be a part of CP's complimentary webinar and learn a little more about Agile methodologies and the actual role of PMI-ACP certification. You can reach out to us at support@certificationplanner.com or call us at +1 8553221201 if you need more information.
Happy Learning!