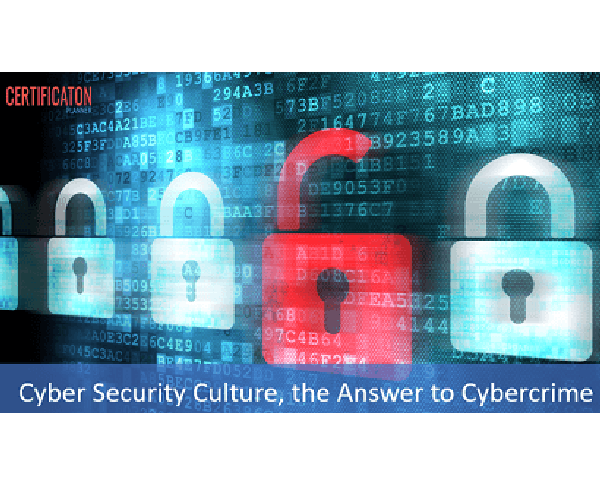 Cyber Security Culture, the Answer to Cybercrime
Warding off cybersecurity attacks and mitigating cybersecurity risks requires a coordinated effort across all levels of a business. While organizations are taking extensive steps towards leashing the security threads, many experts believe that the true solution lies in Cybersecurity culture. But what is Cyber Security Culture?
According to an estimate, Cybercrime damage is set to rise up to $ 6 trillion by 2021. 2018 Cyber Security culture Report produces by ISACA in conjunction with CMMI institution indicates that around 95% of organizations have a gap between the desired cybersecurity state and the desired cybersecurity state. However, the good news is that with the increased security threats, organizations across the globe are trying to find better ways to tackle these threats. Several organizations have steadily been working towards inculcating a cybersecurity culture in their daily walks of life.
Cyber Security culture is a set of cybersecurity practices instilled shamelessly within an organization. It relates to more than certain guidelines. Cyber Security culture corresponds to a whole different way of conducting daily work activities in a way that minimizes the security risk.
George Finney, the Chief Information Security Officer at Southern Methodist University puts cybersecurity culture in an interesting form of "good habits". His comparison compares to gaining physical health through good habits.
"Culture" is one of those things that is hard to define, difficult to implement and is next to impossible to measure. It is not something that can be achieved overnight but takes a continuous push.
Cybercriminals are experts in identifying the weakest link and the weakest link comes in the form of human factors. You will always have people with "Password@123" pinned to their note. Even the employee information available on social outposts can be used to launch a cyber-attack.
While attempting to enhance the cybersecurity culture, it is of utmost importance to instill the concept that security is for everyone. The business leader should strive to change the mindset that the security department is responsible for security. Everyone should contribute and be cautious about what they do.
While developing a culture of cautious cyber activities seems difficult, it can be achieved through structures push from the leadership team, progressive business policies and facilitation of training for the employees.
1. The commitment of Top Management
Top Management must align with security culture and promote security culture by means of a statement, slogans, awareness campaigns, examples, and rewards. While the security team takes care of the taking steps to prevent any security breach, it is only in the capacity of the business leader to drive change in the direction of a healthier security culture.
2. Define Problem
The next major step is to identify problems that cause security breach or can potentially cause a security breach. Employee attributes and behaviors need to be monitored to identify pitfalls.
i. Assess current state: Existing value, the current state of security, practices, assumptions/beliefs and knowledge extent can give a proper insight into the problems.
ii. Define ideal stat: Once the current state is identified and analyzed, the area that needs to be improved will become clearer. Its time to set standards. Identify an ideal state: practices, habits that you would like to bring into the day to day work, Level of knowledge an individual employee should possess and tools and methodologies that need to be introduced.
iii. Define iterative steps: Now that you know where you are and where you want to be, it is time to define iterative steps of improvement. Address aspects that do not involve human aspects like the introduction of cybersecurity associated tools etc. and then move towards covering factors that get affected by human factors.
3. Educate the Employee
Reports say that a major proportion of the top management believe that training can be a strengthening guide for cybersecurity culture. One of the major factors that prevent people from getting engaged in cybersecurity activities is that they find it boring. Thus, it is very essential that you include the element for fun in your training. Traditional voice over PPT is definitely not the answer.
4. Define culture change matrix
While it is important to invest in cybersecurity training, it is equally important to identify if the training is effective or not. Identify a matrix that can provide an insight into the progress achieved.
While the step to developing cybersecurity culture seems simple, it is quite complex to implement. Given the risk from the cyber threats and the time it might take to develop cyberculture, companies are heavily investing in cybersecurity and information security spectrum. Such a situation produces huge opportunities for professionals working in or planning to work in the cybersecurity spectrum. You can hone your skills in the information and cybersecurity with an array of certifications available. These certifications help you pick up new skill sets and validates your experience and knowledge in the spectrum as well. One such certification is the Certified Information Systems Auditor® governed by Information Systems Audit and Control Association (ISACA). Certified Information Systems Auditor® or CISA® is a gold standard for professionals working in the IT audit. There is an array of other certifications like CISM and COBIT® 5 Foundation that you can take up and help shape your carrier.
There are several certification providers who can assist you with certification training and examination. Certification Planner, LLC is a global certification provider committed to connecting working professionals with quality training solutions. With quality at heart, all CP sessions are led by lead instructors. CP courseware is designed by industry experts. That is not all, with CP's CISSP, CISA, COBIT 5 Foundation, and CISM certification course, you get complimentary access to practice questions, chapter-end quizzes, expert assistance and much more. Interested! You can reach us at support@certificationplanner.com. Visit us at www.certificationplanner.com and explore a world of learning and improvement.