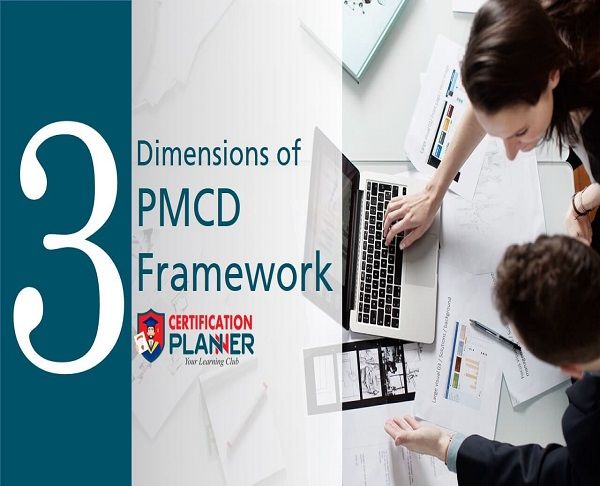 The Dimensions of PMCD Framework
PMCD framework or Project Management Competency Development framework was launched by PMI® in 2002 to provide individuals and organizations with guidelines to access, plan, and manage the development of project management competency. The third version (latest version launched in 2017) provides a comprehensive list of characteristics describing what a competent person in project, program & portfolio management should know, do, and be.
The PMCD framework is useful for a variety of stakeholders like:
* Organizational decision-makers
* Individuals working in the project management spectrum or aspiring project managers
* Trainers/coaches and training organizations
For each of the project, program & portfolio domain, the competencies have been described on three competencies:
* Knowledge & Skills
* Performance
* Personal behavior
What is Competence?
Before we move to the dimensions of PMCD frameworks, let's identify what competency stands for. Competence can be defined as a cluster of related knowledge, attitude, skills, and other personal characteristics that affect a major part of one's job.
The Dimensions of PMCD Framework
Knowledge competence
This dimension is quite straightforward: it describes what the project manager knows about project management, its processes, methods, tools, and techniques. PMI identifies that the knowledge competency is not industry-specific, and the same knowledge areas apply to all projects, regardless of size, scope, country, or complexity of the project.
PMI also identifies that the knowledge competence can be demonstrated through an exam, and hence it has not even provided a breakdown of the knowledge competence. However, it is worth noting that knowledge in itself is not enough to make you a successful project manager. Application of the knowledge plays a significant role, and this is where the next dimension of project competency comes in.
Performance competence
Performance competency can be identified as applied Knowledge competency. In simple words, this dimension pays attention to how a project manager uses his or her knowledge to meet the requirements and obtain project deliverables. The performance competence is depicted by the demonstratable performance of the project manager and focuses on project outcomes grouped into five sets:
* Initiating
* Planning
* Executing
* Monitoring and controlling
* Closing.
Unlike knowledge competence, performance competency has a detailed breakdown of the sources of evidence of performance competence.
Personal Competence
Personal competence is a soft skill related proficiency that covers how a project manager behaves or should behave in a project setting. This competency refers to a project manager's attitude, motives, traits, personality, and how he or she carries out the project activities. The competency has been grouped into six units:
* Communication
* Leading
* Managing
* Cognitive ability
* Effectiveness
* Professionalism
Demonstration of competence
Now that we are acquainted with the dimensions of the project management competency development framework let's identify how a project manager can demonstrate these competencies.
* Knowledge competency: Project managers can depict knowledge competency by passing exams like PMP®
* Performance competency: can be exhibited by successfully delivering a project
* Personal competency: Project manager's behavior is the best test to depict Personal competency
Another essential point to remember is that a "competent" project manager does not guarantee project success. While a "competent" project manager can successfully manage scope, time, cost, resources, and risks associated with the project, other factors like the organization's project management maturity and capabilities will affect the project performance.
Whether you are an experienced project manager or a new one, the Project Management Competency Development framework can be an excellent tool to gauge your skills. The good news here is that almost all the competencies identified in the PMCD can be learned. If you are looking to develop your knowledge competency, you can take up CAPM or PMP certification based on your project management experience.
How can we help?
We at help professionals working in the project management domain explore skill development opportunities through structured learning and certifications. We offer an extensive catalog of certifications available in various training formats for you. You can take up Certification Planner's or certification (in project management). Both these courses are designed by industry experts and incorporate all the essential knowledge areas identified by PMI. With the courses, you will also receive Practice questions, Quiz, and Case studies that will provide a taste of real-life application of the knowledge base. Visit us at or connect with our learning experts at . Happy learning!