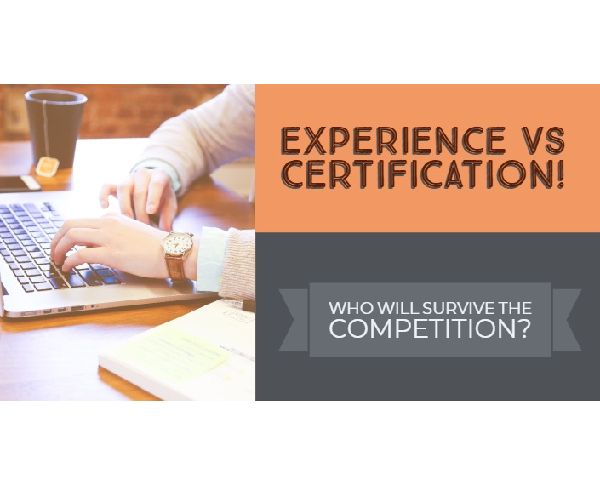 Experience VS Certification! Who Will Survive The Competition?
Hello Everyone,
First, I would like to thank the Certification Planner to help me write this article which I was planning for 3 years. My name is David Wash and I work with one of the leading travel companies in the world as Senior Program Manager.
After working in the Project Management domain for about 22 years, one day my CEO asked me to get PMP certified. With 1000's of projects under my belt, this came as a surprise to me "why I should get certified when I already have the knowledge, proven techniques, and experience to demonstrate my skills. Initially, I delayed finding a training provider or searching for options. My company was going to fund my education though.
After doing some research online and talking to a couple of training companies, I was more confident on what I already have and decided not to go for certification, after all, I had invested 22 years of my career and delivered multi-million projects with highest success rate. 3 Reasons, why I didn't like these commercial certifications, were:
1. Redundant knowledge transfer:
A major reason why I believed that certification courses would be ineffective, especially in cases like mine, was that I already had the knowledge that I was supposed to gain by the training.
2. Extra investment in finance and time:
Most of the high-end certification courses do not come cheap. It is justified to spend money on learning something new, but, spending big bucks on something that I was already an expert at just didn't sound right. Also, the time spent on certification courses could be used in various other work areas like training a new employee or clearing the extra workload.
3. Lack of real-time application:
Another reason why I was against the certification was the lack of application exposure. Yes, the training providers include multiple case studies, but the scope of problems mentioned in these case studies might be very different from my problems and thus the solution must be different as well. Solutions to problems being faced by a huge enterprise trying to change the existing market trend must be different for problems being faced by a startup trying to sustain in the market.
So, I finally met my HR to share my feedback. We took the discussions to Daniel, the Training head from Certification Planner. Certification planners had come highly recommended and we believed that it would be a good idea to look at a training provider's stand on this.
Daniel listed a couple of points as to how certification can be helpful even in my case.
1. Show the willingness to learn:
With multiple people working at the same post providing almost the same results, taking up a certification course makes one stand out from the rest by showing that the person is ready to learn and improve. This directly puts the person ahead of others when it comes to promotions or raises.
2. Becoming more marketable:
We might be happy with where we are right now, and we might think that there is no need for us to be marketable, but it is always good to show the employers that we are at the top of our game. Certifications validate our knowledge! There can be several instances that certifications can help us even if we are not looking for a job change. In cases like outsourcing of services or company merges, you can show your value by being certified.
3. Updating our skill base:
We might be doing something for ages, but this does not guarantee that we are doing it in the optimal fashion. With certifications, we get to update our skillsets and learn better ways of doing things along with learning best practices. Someone somewhere developed a better way of doing something. How do we learn that? An answer to that is via certification courses.
In the words of Daniel:
"Experience and certification go hand in hand, each complimenting the other."
Certification backed with experience yields the best results. In fact, experience in mandatory to take up multiple certifications. While there is a lot that we can learn with experience, it is always good to look at things from an outsider's perspective. This generates the room for improvement. Certifications can be instrumental in this respect.
It is also important to understand that certification courses are very different from our basic education degrees like a diploma. They do not show a generic competency level and are very specific to the work we do. So, taking up certification in areas that we do not work in won't yield any results. So, to sum it up, getting certified:
Shows that you have the know-how of the current best practices.
Increases your value to the organization and improve marketability.
Shows that you are ready to learn and improve.
Keep you ahead of your colleagues.
Certification backed by experience yields the best results.
Certification Planner has been a constant companion for me and has helped me throughout my certification journey. With a well-structured course and complimentary study materials. I got to discover multiple new aspects of Project management. I would be approaching CP if I feel the need to take up further certifications. You can visit their official website www.certificationplanner.com and take up training for a huge range of Certification courses.