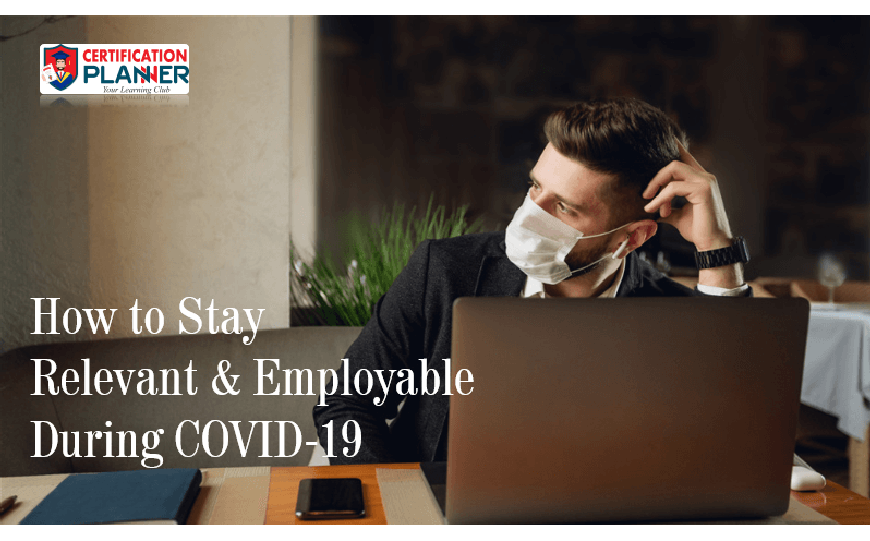 How to Stay Relevant & Employable During COVID-19
The global economy has started receiving extreme lashing from the COVID-19 pandemic. While the organizations across the globe have been showing unparalleled resilience in supporting their employees, lay-offs and downsizing are well within the sight. The global economy has been sluggish for some time now, and the job market is set to become even more rugged with time.
Staying relevant in such circumstances will be challenging. The current situation necessitates a two-fold preparatory strategy for working professionals. The first is to remain relevant in the market while you still hold a job, and second is to stay employable in case you become a victim of downsizing.
Here are 8 crucial steps that you should take to stay relevant during the current time.
1. Become Indispensable
It is prudent to identify that sooner or later, your organization will have to take steps to survive the economic slowdown. To be a part of the workforce that your organization asks to stay on, you must become indispensable. While it sounds highly ambitious, it can be achieved.
What you need to do is to become the go-to person when there is a problem. Stay in touch with your manager or boss and try to identify what needs to be done to succeed. You will have to impress upon your superiors that you take decisive action when needed and can go the extra mile to get the work done.
Another way in which you can become indispensable is by being established as an expert in your domain. Getting certified is a good step towards being established as an expert. Utilize the time you are saving during the lockdown to take up courses that will help you pick up new skills and will work towards improving your overall competency. With a certification in your belt, your chance of surviving the lay-offs will significantly improve.
2. Identify a Plan B
Situations like these can have significant effects on certain domains or functions. If you belong to a field that will take a considerable hit, it is not a bad idea to have a 'Plan B.' You will have to be flexible and get out of your comfort zone. You might have to reinvent yourself, work on skills from the very basic, and might have to move into a completely new domain. This is another area where acquiring accreditations or certifications may help you.
It is always advisable to start from where you are. Try to identify domains where your current skillsets will be useful rather than starting from scratch. Don't be hesitant to take a couple of steps back financially if the situation necessitates.
3. Be open to remote opportunities
There will always be new opportunities. However, they might not be in the same geographical area as you are. It's time to open yourself to relocations both while working in your current organization and while hunting for new opportunities. As several organizations are already managing teams remotely during the lockdown, you might not have to shift. Still, you will have to be open to the possibility of packing your bag and moving to a new location.
4. Stay Updated
The lockdown will allow ample time for you to focus on your researches. This is not the time to become obsolete. Research about the market trends, the new initiatives, and development in your domain. You should also spend time to identify the lag in your skills and find the means to update your knowledge. Pay attention to what other organizations in your domain or people in your position are doing. Having updated insight into the industry will also come handy during interviews if you are forced to look for a new job.
5. Keep Exploring Options
Even when you hold a job, you should keep an eye for job openings. While one might consider widening the search parameters for job search, we suggest against it. It is essential to identify where you want to be post-COVID-19. Focus on the domain you want to work for and identify areas where your skills will be useful.
6. Work on Your Resume
While it is crucial to work towards securing your current role, it is prudent to prepare for the worst situation. About 70% of the applicants are rejected in the initial screening due to a lack of relevant information, clumsy format, or the lack of essential keywords.
So, spend some time preparing your resume. Include relevant experiences, expertise, and skills. Use a resume format that makes your CV look organized.
7. Utilize Social Networking Platforms
Networking is a crucial element is the current corporate setup. With platforms like LinkedIn, networking has become quite easy. Networking will help you share ideas and knowledge that will help you grow in your current role. Employers are generally quite active on social networking platforms, and building your network might connect you to your next employer.
8. Maintain Mental Health
Social distancing and forced isolation can have a considerable impact on your mental health, especially when you are working hard to secure your job or looking for a new one. Managing your mental health has never been more critical. Try to speak to friends or colleagues from time to time and try to be a part of video interactions with your friends and family.
The key to navigating through the COVID-19 affected world is to become adaptable and taking all the steps necessary to deliver value. This is the correct time for you to look for options to build your skillset and take up certifications in your field. Certification Planner, LLC, is a global skill development organization that has recently rolled out training options, especially for the current situation. With CP, you can acquire certification in domains like , , , , and much more. Visit us at or drop an email at with your requirement. You can also connect directly with our certification champs at +1 8553221201. Happy Learning!