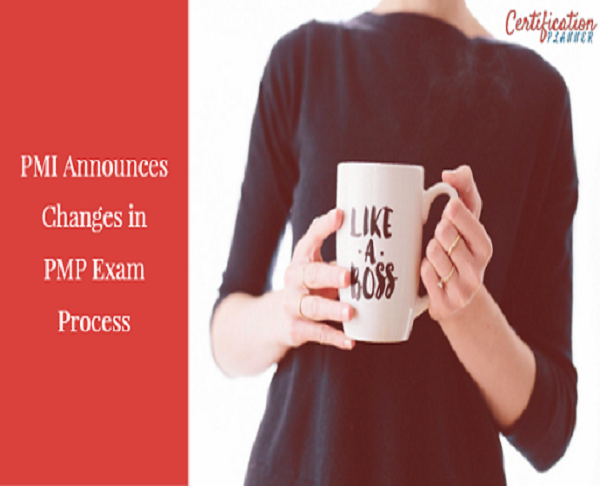 PMI announces changes in PMP Exam Process
PMI is a no-profit global organization assigned with the task of driving research, training, and certification for project management. With organizations investing heavily in project management and professionals involved in project management, the importance of the task set maintained by PMI has increased multiple folds.
PMI holding true to its end by conducting regular research to understand the changing trends in project management and materializing it through PMBOK, and an array of certifications in project management that are governed by PMI.
The last major release by PMI was in the form of the 6th edition of PMBOK. PMI had made several big changes in PMP; one of the most sought-after certifications in the project management spectrum, like the introduction of Agile methodologies in PMI.
PMI is all set to make some major changes to the PMP examination. While the company has not explicitly stated the changes that it intends to make, it has indicated that the changes would be aimed at improving the certification journey of candidates.
An overview of the Changes
PMI intends to improve the support it provides to the customers' career journey. The organization is planning to create iterative steps to help candidates acquire the skill sets necessary to succeed in the project management spectrum. This may manifest as PMI linking its certifications to one another to create stepping stones to acquired excellence.
PMI has also indicated towards creating more customization options within its certifications. PMI has mentioned on its website that it will be targeting the "one-size-fits-all approach" with the customizations it intends to make. It is really early to comment on the changes PMI is going to make but we can expect variations in the standard certifications. However, we will have to wait for the formal word of PMI to find out the actual structure and changes.
Modernization is another aspect that PMI is working in. PMI has already included agile in its last update and we might expect similar endeavors from PMI. Whatever changes are made, they will be aligned towards giving the candidates a better experience and practice of real-life situations, learning, and improved tools.
PMI will not only be helping candidates acquire new skill sets but will also be working towards recognizing those skills.
PMI has already announced the first change: a partnership with Pearson VUE for better training delivery and introduction of Online proctored examination for CAPM and PMI-ACP. The partnership with Pearson VUE has made the process of taking up tests easier by introducing over 5000 test locations globally.
Pearson VUE comes with multiple advantages like additional test locations, options for online proctoring, additional benefits to US Service members like taking the test in their service area and use of an advanced scheduling and examination platform.
If you want to know more regarding the topic, you can refer to our article "PMI Switches to Pearson VUE and Online Proctored Testing" which elaborates on the transition process between the old and the new Pearson platform, the benefits and the limitations of the proctored examination.
PMI has also announced that candidates can now opt for an online proctored examination for CAPM and PMI-ACP. While this might be a test run and PMI may make the option of an online proctored test open for all the certifications, it has mentioned that, as of now, the online proctored test is available only for CAPM and PMI-ACP. Here is a good read for you if you want to learn more about CAPM and PMI-ACP online proctored tests: "CAPM and PMI – ACP Online Proctored Examination". The article details the process of scheduling and taking up the proctored test.
Certification Planner is committed to connecting you with the most updated information on the Project management spectrum and with front-of-the-class training solutions. We will keep you updated with the changes made by PMI. Meanwhile, you can check-out the certifications offered by us at www.certificationplanner.com. We pride ourselves on our prime quality and present to you optimized training courses in CAPM, PMP, PMI-ACP, PgMP, and PMI-RMP. You can contact us at support@certificationplanner.com or call us at +1 4084185586. Happy Learning!