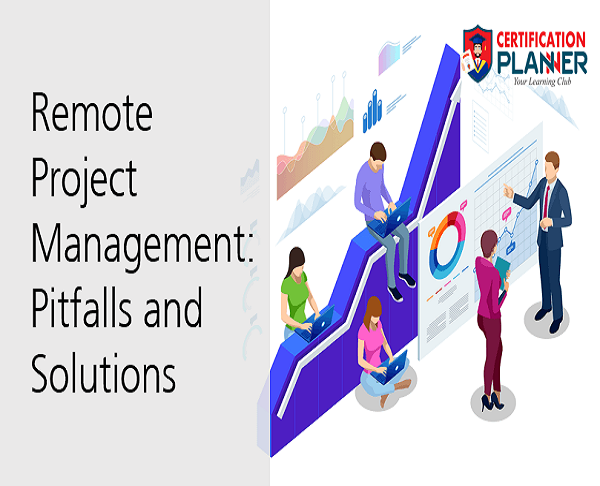 Remote Project Management: Pitfalls and Solutions
Remote Project management is not exactly a new concept. Even before the pandemic, the idea of running projects with its members geographically distributed has been widespread. While the current crisis has brought work from home to every doorstep, the project management teams need not walk into the practice, completely blind. Based on our consultation experiences, we present challenges faced by project managers while managing projects remotely and their solutions.
It is essential to understand that the typical project challenges of issues and deadlines will continue to exist, and we will not be including these issues in the scope of this article. While the nature of the problems varies with project types, we will be discussing the common challenges that are faced by most of the project leaders.
The Pitfalls
I. Lack of Skills
According to the Pulse of the Professionals (2017), 20% of projects fail because of the lack of project management skills. However, when it comes to remote project management, several other factors come into play and may contribute to project failure.
Very often, availability takes precedence over skills in remote project management. Availability issues can arise due to the geographical distribution of employees or due to personal working style. The task might get assigned to a person available rather than the person capable of doing the job.
Remote project management also involves making use of several project management tools. Limited knowledge of such tools can also result in issues during project execution.
Solution:
Allocation of the correct person, or taking steps to build the skill set of the project team are the only two ways out of this situation. It is a good practice to conduct training for the project management tools before actually deploying any tool.
II. Poor Communication
Out of all the problems that we will list in the article, this would be the most common and devastating one. Miscommunication or lack of communication can result in an incomplete transfer of information, incorrect establishment of expectation, or wrong requirement delivery. These can quickly manifest into improper delivery during the project. During remote project management, poor communication between the team can occur due to various reasons like an improper communication channel, miss-match of time, or just because of less iteration of communication attempts.
Solution:
Project managers can take a couple of steps to avoid miscommunication or poor communication.
* Establishing dedicated channels for communications and the use of communication-based techniques to make sure all the messages are conveyed to the correct person.
* Regularly monitoring these channels to eliminate any chance of missed communication.
* Identifying overlays in schedules in different teams to conduct essential discussions and stand-up meetings.
* Using project management tools to cover all communication and knowledge transfer aspects of project tasks.
III. Loss of Productivity
While work from home is generally associated with higher productivity, working from outside the office for a prolonged period may eventually result in loss of productivity. This is especially true for professionals who are accustomed to working from office but are working from home now. Working from home often lacks the interaction between the manager and the team or even between team members. This hampers the overall motivation as well as excludes several feedback opportunities. Both of which results in lower productivity.
Solution:
It is a considerable challenge for project managers to keep the team motivated and maintain the productivity of the team members. It is essential to stay in constant contact with the team members and resolve all their issues on a regular duration to keep the team members motivated. It is necessary to understand that mental health plays a crucial role, especially during the current scenario.
Also, it is vital to approach team performance realistically.
* Set clear expectations for each position along with KPIs and the resources available to deliver the results
* Put constant checks on the delivery to identify deviations in performance
* Assign realistic goals to team members. Do not try to overburden the team with unrealistic expectations.
IV. Availability
If the working durations are not assigned, and if people are from different time zones, it becomes difficult to connect with all the team members at a time. This not only creates issues in team communication but also in the allocation of tasks. When different people work at different times, team spirit also takes a hit.
Solution:
Becoming creative with interactions is the only way out of this situation. It is generally possible to find an overlay when people can connect. Apart from this, one can:
* Record the meetings for people who have not been able to attend the meeting
* Take feedbacks related to the meeting and try to identify opportunities to connect various team members
* Communicate using other modes of documented communications for processes that are essential but need not be conducted through an all-team meeting.
V. Tracking performance
We have already mentioned that tracking performance is essential. For some people, tracking performance is as simple as them delivering results. However, for several, deeper involvement in the task is vital to identify performance. Individual participation is difficult, even in general conditions. It becomes much more difficult during remote management of the project.
Solution:
This is another area when project managers will have to be creative. It is never a good idea to micromanage, but proper checks need to be identified. For example, in a customer relations role, an open channel that included the management, the employee, and the client works. Customer feedbacks can easily be a benchmark of performance.
VI. Rapport Building
With remote project management, it is never easy to build a report with the team. Project managers cannot directly approach and interact with team members. Also, when such communications happen, they happen through mediums that are not very conducive for building trust. Without trust, it is indeed a mammoth task to successively manage a team.
Solution:
Project managers have to make the best out of the situation. Video conferencing is the second-best option after the in-person meeting. Engage the team members through video conferencing. The PM can also include several team building activities to boost trust within the team.
VII. Conflict Resolution
Conflicts are inevitable. They are bound to happen. While it is easier to identify conflicts in-person, conflict identification in remote teams is much more challenging. The conflict may progress through a separate email that the project manager might not even know about.
Solution:
While project managers are experts at conflict resolution, identification of conflict is complicated. One should keep an eye out for change in tone. Keep an out for people who had been very engaging but suddenly change to short answers. Also, keep an eye for people who take additional steps to avoid interacting or working with a specific person. These are signs of conflict within the team.
While working from home has become an absolute necessity, project managers need to address these issues in the initial stages of the project execution. While most of the problems mentioned here are serious, they can be resolved by taking brisk actions. Whether you are present in-person with your team or managing the project remotely, the team must place their trust on you. One way of gaining trust is through validating your experience with certifications. If you are an ardent project manager, you can validate your expertise through , , , or certification. However, if you do not have a lot of experience, you can acquire knowledge with PMI governed certification. Certification Planner is a global training body that provides quality training solutions for working professionals. If you want to know more about CP's training solutions, you can visit us at . You can also drop an email at . Build your skills and continue delivering value by managing projects of your organization.