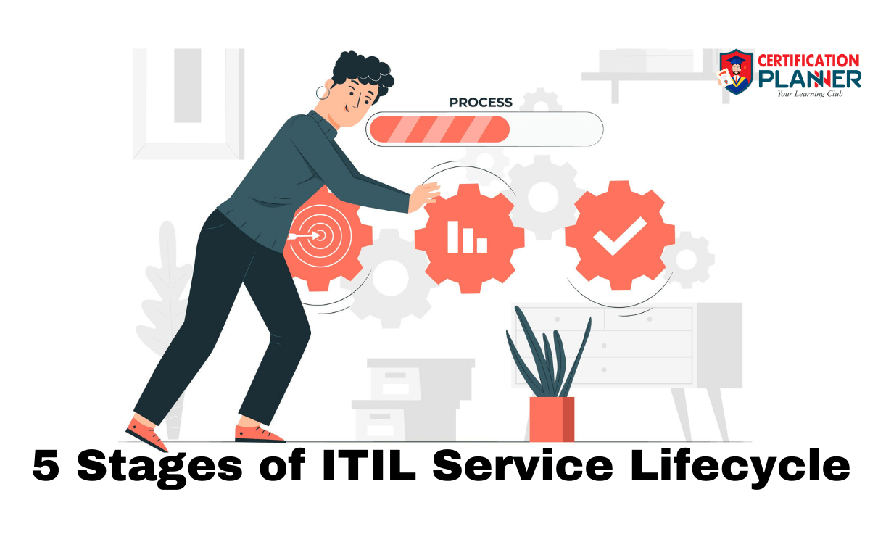 5 Stages of ITIL Service Lifecycle
It is imperative to know that business and technology go hand in hand. To meet the customer's needs and satisfaction and avoid catastrophic failures, an organization should be able to maintain proper management of IT operations.
ITIL stands for Information Technology Infrastructure Library. It is a framework of best practices for performing IT services. ITIL helps organizations to manage business risks, build cost-effective methods, and manage customer relationships.
According to Axelos, ITIL can also help businesses improve services by:
Assisting companies to manage risk, disruption, and failure
strengthening customer relations by "delivering efficient services that meet their needs."
establishing cost-effective practices
building a stable environment that still allows for growth, scale, and change.
ITIL Service Lifecycle:
Like processes and products, IT services have a lifecycle to initiate and maintain ITIL Service Lifecycle services. Certain principles of ITIL Service Lifecycle are essential to adhere to maintain optimal efficiency and efficacy. The life cycle is designed in 5 stages consisting of 26 processes on implementing IT Service Management (ITSM). The ITIL service lifecycle is based on strategy, design, transition, operation, and continual improvement of IT services.
The5 Service Lifecycle Modules, which are each based on a Service Lifecycle Phase, are:
Service Strategy
Service Design
Service Transition
Service Operation
Continual Service Improvement
Service Strategy:
Service Strategy is an origin point of ITIL Service Lifecycle that helps organizations utilize IT services to align with business strategy requirements. Service strategy aims to fulfill the necessity of a service provider in terms of 4 Ps.
Perspective: Vision or direction of the services
Position: To know your spot in the industry compared to competitors.
Plan: The plan of action to achieve the goal
Pattern: The necessary ongoing process includes processes, policies, schedules, budgets, and management systems.
Process areas of service strategy include:
Strategy management for IT services
Business relationship management
Financial management of IT service
Service portfolio management
Demand management
Service Strategy Objectives:
The objectives of the service strategy stage of the ITIL lifecycle involves
To understand the capability of an organization to provide service.
To provide well defined IT services.
To explain the process in terms of initiating the services, budget, and delivery method of assistance.
To explain the value of each service.
To optimize the performance of service assets used to deliver the IT services.
Service Design:
Service Design is the second stage of the ITIL Service Lifecycle. This stage aims to convert the Service strategy into the plan to achieve the business goals. Service design aims to provide guidelines and best practices for design. Service design has components called 4 Ps.
People
Products
Partners
Processes
Process areas of service design include:
There are 11 processes in this stage in which eight techniques are main processes, and three strategies are unofficial sub-processes
The eight main processes of the ITIL service design stage:
Design coordination
Service catalog management
Service level management
Supplier management
Capacity management
Availability management
Service continuity management
Information security management
The three unofficial service design sub-processes:
Risk management
Compliance management
IT architecture management
Service Design Objectives:
The objectives of the service design stage of the ITIL lifecycle involves
To determine an efficient and effective design that aligns with the business objectives.
Continual Service Improvement (CSI) is embedded for effective results.
To identify the changing trends to adopt and look out for investment opportunities.
Service Transition:
Service transition is the third stage of the ITIL Service Lifecycle. This stage ensures seamless implementation and operation of IT services. To keep the product safe, all the processes and plans are verified. ITIL provides that the changes while managing and transitioning have a minimal impact on business objectives and, hence, follow a structured approach while managing and transitioning any IT service.
In this stage, a Service Knowledge Management System (SKMS) is introduced to enhance efficiency and effectiveness throughout the ITIL service lifecycle.
The service transition stage aims to meet the business objectives even with the new, modified, or retired services introduced in transition.
Process areas of service transition include:
Transition Planning and Support
Change Management
Service Asset and Configuration Management
Release and Deployment Management
Service Validation and Testing
Change Evaluation
Knowledge Management
Service Transition Objectives:
The objectives of the service transition stage of the ITIL lifecycle involve
To manage the risks caused by the new, modified, or retired services.
To plan and manage the service changes efficiently and effectively.
To ensure that the changes that occurred have a minimum impact on the business objectives.
Service Operation:
Once the strategy, design, and transition are in place, all the activities are put together for a service operation. The IT services are delivered through the service desk with best practices and processes. This stage of the ITIL Service lifecycle ensures that the services are provided effectively and efficiently by monitoring services, resolving incidents, fulfilling requests, and carrying out operational tasks.
Service Operation includes five processes and four functions that deals with day to day activities and infrastructure. To deliver the services.
Process areas of service operation include:
Event Management
Incident Management
Problem Management
Request Fulfillment
Access Management
Functions of service operation:

Service Operation Objectives:
Ensure that the required IT services are delivered as per the service level agreements to the business users and customers.
To improve the service as routine activities for performance monitoring, assessment metrics, and data gathering are systematically conducted.
Continual Service Improvement:
Continual Service Improvement (CSI) is the last stage of the ITIL service cycle. This is a method to make the ITIL services better by identifying the opportunities for improvement. It is a practice to achieve the best service quality with service strategy, design, transition, and operation services. It uses a metrics-driven methodology. In this stage, The Deming cycle-The PDCA cycle is used as a foundation.
The 7 step improvement process:
Identify the approach for improvement.
State what will you measure
Collect the Data
Process the data
Analyze the data and information
Present and use the information
Implement corrective or remedial activities
Continual Service Improvement Objectives:
To increase the cost-effectiveness and process efficiency of the IT service.
To evaluate, analyze, improve the existing opportunities in each phase of the service lifecycle.
To increase the quality of the IT service and improve the effectiveness of the IT service management process.
To maintain customer satisfaction.
Boost your career with ITIL certifications and global recognition with AXELOS's Accredited Training Organization(ATO), the Certification Planner, LLC. Get training now with industry-leading experts at any convenient mode of practice. Enroll now.