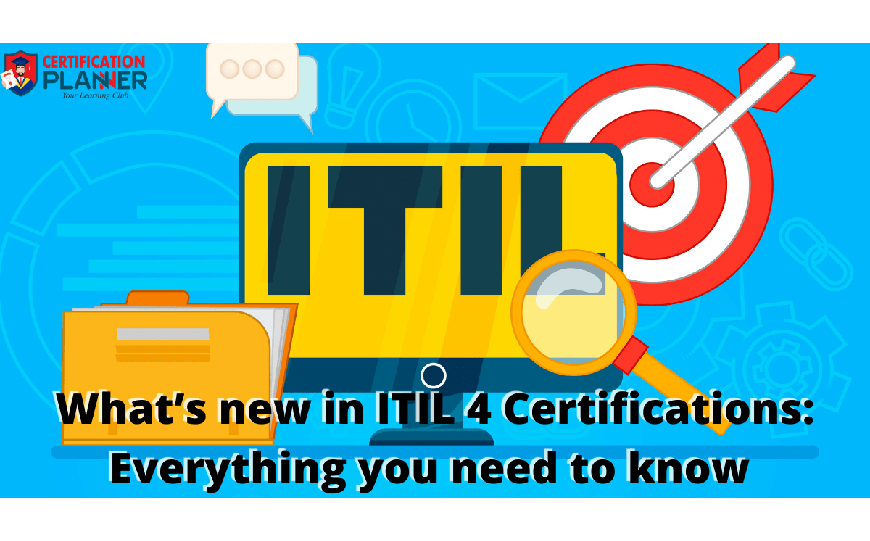 What's new in ITIL 4 Certifications: Everything you need to know
ITIL Certifications are the most sought and prestigious certifications in IT service management. There is a vast demand for ITIL certifications in 2021 due to the increase in cloud computing adoption. Cloud Computing involves many AI/ML algorithms that increase IT operational load. Due to this increased IT load, improved customer experience, and a high need for a digital approach, many organizations are rapidly embracing ITIL practices.
"In an AXELOS survey conducted with more than 2200 service practitioners based in India – 90% reported that ITIL had been adopted by their organization, with 85% saying it helped their business deliver service management improvements."
This blog includes,
What is ITIL 4?
What is new in ITIL 4?
How ITIL 4 Is Different from ITIL V3?
What are the ITIL 4 certifications?
How will ITIL4 affect existing ITIL Certification holders?
What is the average annual salary of ITIL 4 certified?
What is ITIL 4?
Information Technology Infrastructure Library 4 (ITIL 4) is the latest ITIL certifications version that offers the best IT products and services using IT service management (ITSM). It provides a digital operating model that helps businesses to,
Maintain agility
Improve flexibility and innovation in ITSM
Manage business risk
Stabilize customer relations
Establish cost-effective practices
Build a stable IT environment
ITIL 4 aligns with updated trends such as agile project management, lean management for quality, DevOps to enhance the IT service customer experience, value stream mapping, and digital transformation.
What is new in ITIL 4?
ITIL 4 was released in February 2019. The ITIL V3 edition required an update due to the lack of guiding principles, lack of emphasis on value delivery, and the need for compatibility with updated management approaches such as agility, lean, and DevOps. To address these issues, ITIL 4 was released.
The new ITIL 4 consists of:
The Four Dimensions Model
The ITIL Service Value System
The Four Dimension model is the updated version of 4P's (people, products, partners, and processes) in ITIL V3. The revised framework is designed to deliver value to customers in IT products and services. These dimensions are:
Organizational and people
Information and technology products
Partners and suppliers
Value streams and processes
The ITIL Service Value System includes everything that is required to create value in the form of services.
According to Axelos, there are five elements, and a combination of these elements is used to provide end-to-end value for the service relationships.
Guiding principles
Governance
Service value chain
Management practices
Continual improvement
The ITIL 4 framework addresses the issue that lacked ITIL V3, i.e., a set of overarching principles to inform the design and execution of ITSM processes. The collection of guiding principles are:
Focus on value
Start where you are
Progress iteratively with feedback
Collaborate and promote visibility
Think and work holistically
Please keep it simple and practical.
Optimize and automate
How ITIL 4 Is Different from ITIL V3?
As discussed above, there are considerable changes that can be observed in ITIL 4. Few changes are:
The ITIL V3 processes are now ITIL 4 practices. Thirty-six processes in ITIL V3 were aligned with IT service management (ITSM) that includes Service Strategy, Service Design, Service Transition, Service Operation, and Continual Service Improvement. ITIL 4 consists of 34 practices grouped in 3 major areas: general management practices, Service management practices, and Technical management practices.
The ITIL service lifecycle of ITIL V3 is replaced with the ITIL service value system (SVS) and the service value chain within it.
The 4Ps of service management in ITIL V3 is now 4 dimensions.
The service involved in ITSM involves the introduction of 'co-creation of value' in the definition of a service in ITIL 4
The guiding principles in ITIL V3 were 9, whereas, in ITIL 4, it is reduced to 7.
What are the ITIL 4 certifications?
ITIL certification is one of the top IT certifications accredited by Axelos. The current version of ITIL Certification is ITIL®? 4. The ITIL 4 certification path is updated with 2 main designations after ITIL 4 Foundation certification. Once you gain ITIL 4 Foundation credential, you can progress your career path with ITIL 4 Managing Professional (MP) or ITIL 4 Strategic Leader (SL). If you wish to gain both the designation credentials, you will be eligible to take the ITIL Master exam and certification.
There are 4 ITIL certification levels in ITIL 4 scheme:
ITIL 4 Managing Professional (MP)
ITIL 4 Strategic Leader (SL)
ITIL Master
ITIL 4 Foundation Level: ITIL 4 Foundation certification is an entry-level certification that covers the introduction of the core concepts and principles of ITSM.
ITIL 4 Managing Professional (MP): It is an ideal and advanced level certification for those closely working with technology and digital teams across the organization. This certification validates the knowledge required to run IT projects, groups, and workflows using practical and technical skills. It covers all the concepts in 4 modules:
ITIL Specialist Create Deliver & Support
ITIL Specialist Drive Stakeholder Value
ITIL Specialist High Velocity IT
ITIL Strategist Direct Plan & Improve
ITIL 4 Strategic Leader (SL): ITIL 4 SL certification is an ideal certification for digitally-enabled services in the organization that aligns with IT and business strategy. In this advanced-level certification, there are two exam modules to earn the credentials:
ITIL Strategist Direct Plan & Improve

ITIL Leader Digital & IT Strategy
ITIL Master: To earn a master credential, you need to clear all the modules of
Managing Professional (MP) and Strategic Leader (SL). The primary prerequisite to attend the ITIL master program is to have a minimum of 5 years of experience in IT service management in a leadership, management, or higher management advisory level.
How will ITIL 4 Certification affect existing ITIL V3 Certification holders?
ITIL V3 certifications will expire in 2022, as announced by the Axelos.
| | |
| --- | --- |
| ITIL V3 Certification level | Retirement date |
| ITIL V3 Foundation | 1 July 2021 |
| ITIL V3 Intermediate | 1 January 2022 |
| ITIL 4 Managing Professional Transition exam | 1 July 2022 |
ITIL V3 certification holders need to upgrade their credentials to ITIL 4. Now let us understand what to do in the following cases:
If the candidate has ITIL V3 Foundation certification, they would need to recertify their credentials by taking ITIL 4 Foundation Certification.
If the candidate has an ITIL V3 Intermediate/ ITIL Practitioner certificate, they can directly take ITIL 4 Managing Professional Transition exam. To attend this exam, the candidate needs to have at least 17 credits. Once the candidate clears the exam, the candidate is an ITIL Managing Professional certification holder. As mentioned above, the ITIL Managing Professional Transition exam will expire in July 2022 and earn 17 credits soon to fast track ITIL 4.
ITIL Managing Professional Transition Exam format:

Questions type: Multiple choice
No. of questions: 40
Passing marks: 28
Duration: 90 minutes
What is the average annual salary of an ITIL 4 certified professional?
According to Payscale.com,
The average annual salary for different job roles:
Conclusion:
Boost your career with ITIL certifications and global recognition with AXELOS's Accredited Training Organization(ATO), the Certification Planner, LLC. Get training now with industry-leading experts at any convenient mode of practice. Enroll now.