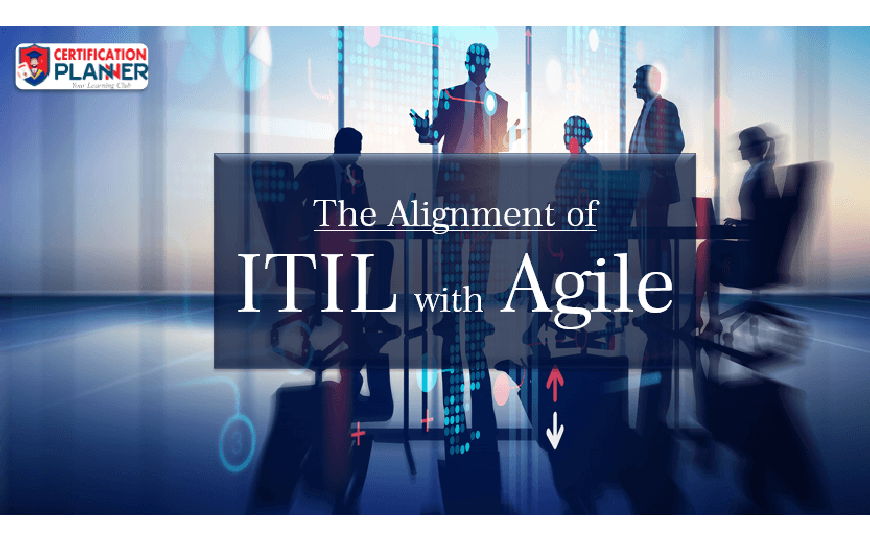 The Alignment of ITIL with Agile
ITIL, a framework governed by AXELOS, is a collection of best practices that hold the potential to optimize IT service delivery. Organizations have extensively been using the framework, and it has proved to be very rewarding and efficient in optimizing IT service delivery. However, ITIL started facing criticism on the font that it was just too firm. ITIL provided best practices or procedures that describe how to conduct various activities. This meant that IT service delivery based on ITIL included pre-identified processes that left little room for adjustments. Also, companies had often been following the practices to tooth and nail, losing significant chances to change strategies in case of diversities.
As the popularity of agile increased, professionals started rooting for the capability of adapting to changes. The Agile service management is nothing but the application of Agile mindset to IT service management and is constructed around four foundation pillars:
* Individuals and interactions over processes and tools
* Working software services over comprehensive documentation
* Customer collaboration over contract negotiation
* Responding to change over following a plan
Until ITIL V3, ITIL appeared quite far from the agile mindset. ITIL gave importance to a lot of points that are considered not essential by Agile. Several professionals had started considering ITIL obsolete until AXELOSE rolled out the latest version of the Certification: ITIL 4.
The Change
With the help of 12 lead Architects, 61 authors and reviewers, and hundreds of practitioners from the IT industry, AXELOS was able to make significant changes to ITIL and made it more aligned to Agile. The new version of ITIL included features from other frameworks like DevOps.
The changes made to the ITIL is more of an attitude adjustment with more importance being given to "Value." ITIL has now witnessed a shift of focus to customer experience identified as achieving value & establishing the value chain as a function.
The new ITIL 4 is much more aligned to the agile mindset and focuses on what organizations identify as value. The idea is to take a holistic approach to IT service management and keeping things simple and functional. ITIL 4 has exempted the service lifecycle and is paying more emphasis on the Service Value System (SVS) and Service value change. The SVS indicated towards the collective functioning of different components and activities of an organization to facilitate value creation. This brings into light a new concept: Value stream. A value stream always starts with demand and concludes with value. The idea of the Value stream has effectively replaced the service life cycle of ITIL v3.
While this maturity does not sideline concepts such as change management, problem management, and incident management, ITIL 4 is no longer looking at IT processes without considering people as well as their skills and roles.
The latest version of the ITIL has been met with immense appreciation from IT practitioners and experts. AXELOS has already rolled out the Foundation module, Managing Professional Transition module, and Managing Professional module. Scores of IT practitioners who had been planning to take up the new version of the certification have begun their ITIL journey. If you are one of the professionals planning to start your ITIL journey, you can take up Certification Planner's . Owing to the current global situation, CP has released two new models: Self Styled Learning and Self Styled Plus Learning, that can be taken from the safety of one's home and are easy on the pocket. With CP's ITIL 4 Foundation certification training, you get to learn from courseware designed by industry experts holding ITIL 4 credentials. Visit us at to know more. You can also reach out to our certification expert at or call us at +1 8553221201. Happy Learning!